Film lovers have something to look forward to starting from this Saturday as the Pacific Human Rights Film Festival 2023 kicks off at the University of the South Pacific with the film "Oceans Apart: Greed and Betrayal in Pacific Rugby".

Event organiser Ben Wheeler says the film is about human rights and Pacific rugby, and they are flying in Pacific Rugby Players Welfare founder and former Samoan rugby international, Dan Leo for this historic event.
He says the film focuses on how Fiji, Tonga and Samoa produce the best rugby players in the world, and how they are being treated in game.
Wheeler says this is like the Tier 1 and Tier 2 politics that surrounds the game, that was seen in the recent Rugby World Cup in France, and has provoked a lot of discussion and debate.

He says they have an excellent panel that will be leading the discussions after the film on this topic and others relating to the film.
The panel includes Dan Leo, Fiji Rugby interim administrator, Simione Valenitabua, former Fijiana player, Mere Moto and Fijian Drua Events and Operations Manager, Eleina McDonald. It will be moderated by Randell Kamea.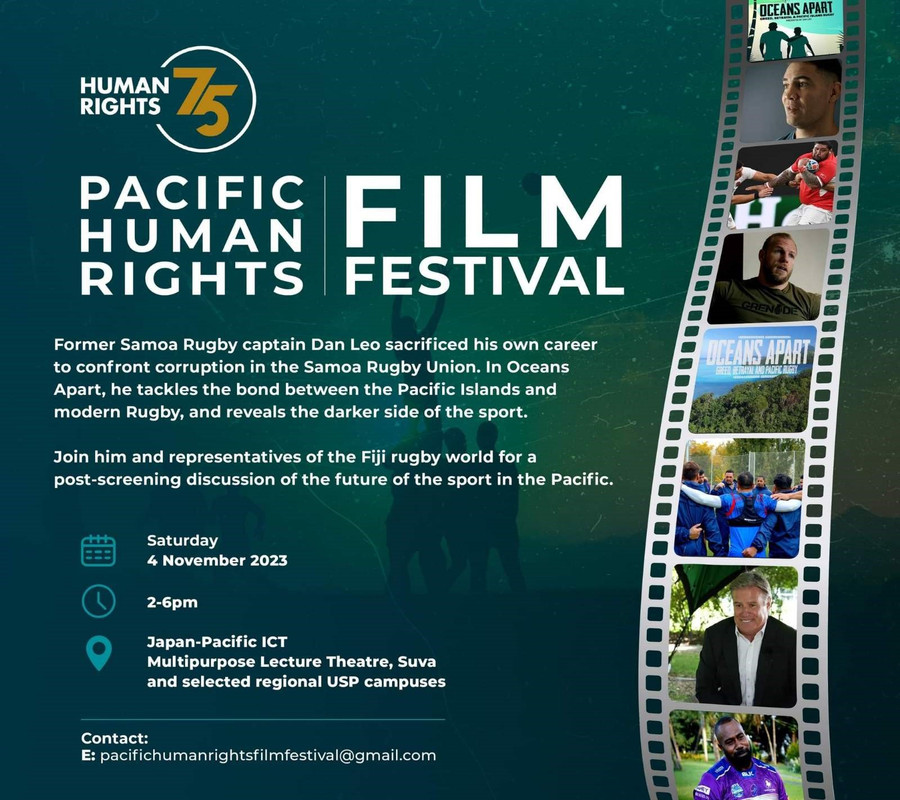 The Film Festival will have something new and different every Wednesday and Saturday till the 9th of December.
Wheeler says their main focus is on Pacific films, film making and indigenous film makers.
He says however they do have an eye to wider global cinema that has not been screened here.
Wheeler says they have a real focus on Fiji this year, with the first 3 sessions having a distinct connection to Fiji which is something they have not really had before.
He says that is a sign that Fijian film making is on the rise.
Other films that will be shown are from New Caledonia, Cook Islands, India, New Zealand, South Africa, Hawaii, Finland, France and Fiji.
The first screening is this Saturday from 2pm – 6pm at the USP ICT Japan Pacific Multimedia Theatre. Admission is free to all the movies.