---
Raikatalau was not expecting to win overall best male athlete at the Coke Games
Raikatalau was not expecting to win overall best male athlete at the Coke Games
Ratu Kadavulevu School's Jale Raikatalau on his way to the finish line in the 800m finals on Day 3 of the 2023 Coca-Cola Games
Ratu Kadavulevu School's Jale Raikatalau was not expecting to win the overall best male athlete at the 2023 Coca-Cola Games after it concluded at the HFC Bank Stadium.
The 14-year-old student says all he was focused on was to participate at the meet and give his best shot.
He says preparations for the Coke Games was a bit tough but all the hard work and sacrifices finally paid off.
He dedicated his win to his family and his coach.
Raikatalau won gold medals in the 4x400m relay, 1500 metres and 800 metres finals and also set a new record in the 1500 metres breaking the old record of 4 minutes 43.42 seconds set back in 2017 by Yasawa High School's Isireli Lagivala.
The new record is 4 minutes 43.11 seconds.
MGM High School's sprint queen, Kesaia Boletakanakadavu was crowned the best female athlete.
---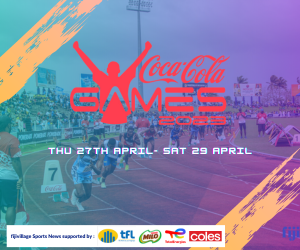 ---
---
fijivillage Straight Talk with Vijay Narayan
Latest Videos
Stay tuned for the latest news on our radio stations