Flying Fijians Coach Vern Cotter and Blues number 8.
Flying Fijians Coach, Vern Cotter is keen to lure several Super Rugby prospects and has assembled a quality New Zealand-led coaching team as he prepares to guide Fiji in a potentially daunting 8 nations tournament later this year.
The former Crusaders assistant has been impressed by several Fiji-eligible prospects including Blues No 8 Hoskins Sotutu, loose head prop Alex Hodgman, who played under 20s for New Zealand and Fiji, Chiefs No 8 Pita Gus Sowakula, Crusaders prop George Bower and wing Manasa Mataele, who is yet to return from injury.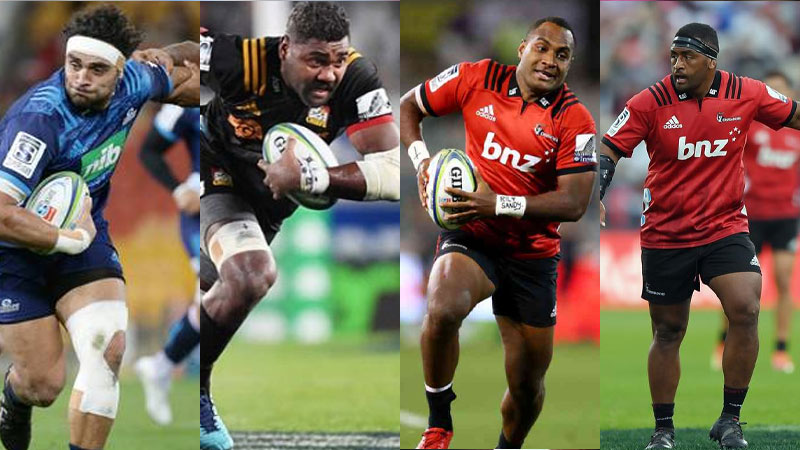 Alex Hodgman Pita Gus Sowakula, Manasa Mataele and Crusaders prop George Bower [image: Superrugby.com]
Cotter has told the NZ Herald that the guy Fiji would love to get is Hoskins Sotutu, but he thinks All Blacks Coach, Ian Foster has probably got his eye on him.
Cotter says if Fozzie doesn't pick Hoskins Sotutu, he is welcome to come and play for Fiji.
Confirmation of Cotter's interest in Sotutu is the latest twist in a tale which, in recent weeks, involved England attempting to swoop after the in-form loose forward revealed his diverse eligibility.
Sotutu has since committed his future to the Blues for at least the next two years, however, and All Blacks coach Foster is expected to select the 22-year-old in his first squad this season, provided he recovers from the knee injury that has sidelined him for the past two weeks.
Multiple nations are after Hoskins Sotutu.
Since accepting the Fijian job in January, Cotter has recruited highly-regarded Crusaders forwards coach Jason Ryan, former Waratahs head coach Daryl Gibson, Glen Jackson, who retired from refereeing last year, and Richie Gray to his coaching team.
Gibson will lead Fiji's backline and attack; Ryan the forward pack, Jackson skills and kicking while Gray, who worked with the Springboks from 2014-16 and Cotter at Scotland and Montpellier, will oversee the contact area.
Following the Pacific Nations Cup in October, Fiji is expected to compete alongside Japan against the traditional Six Nations powers from November 17th to December 5th, with teams to be split into two pools of four.
The eight-team tournament will this year replace the traditional northern-hosted November tours, with the Sanzaar nations instead hoping to stage the Rugby Championship in New Zealand during this window.
Cotter says the concept itself is fascinating and would be really good for Fiji rugby considering there's probably 35 professional rugby players in Europe at the moment you could call on to play for Fiji.
He says he just wonders how Fiji got into the pool with England, Wales and Ireland.
Cotter says Japan, Italy and Scotland are all ranked lower in World Rugby rankings than the teams in ours.
He also says coming up against England at Twickenham in the first game you've got to be at the top of your game or you're going to be on the end of a fairly large score.