Fijian Electoral Commission Chairman Suresh Chandra - [Photo: Fijian Electoral Commission]
The earliest date on which the Writ of Elections can be issued will be 26th of May 2022 which will exactly 2 years from tomorrow.
Fijian Electoral Commission Chairman Suresh Chandra says exactly one year from now the Elections Office will be conducting a ball draw to select the first number that will appear in the ballot paper for the General Elections.
He says the numbers used in the 2018 General Elections will not be used again.
Chandra says potential candidates must be wary of the residential status if they are keen on meeting the candidates eligibility requirements.
Chandra says if a person is planning to contest the next General Election, they will need to be in the country for an aggregate period of 18 months of the 2 years after being nominated.
The Chairman says the FEO has also decided to extend the phasing out of the 1.0 green voter card to 30th June 2021 due to the current COVID-19 situation.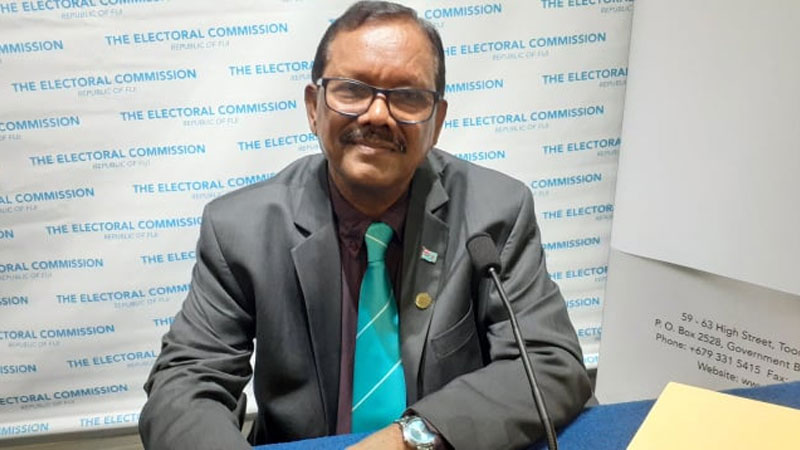 He says voters who have the green 1.0 voter card have another year to get the blue 2.0 voter card.
Chandra adds that the Fijian Elections Office will also publishing a list on its website of potential polling venues it intends to use.
The list has 1423 polling venues and includes election day and pre-poll venue and are the same ones used in the previous General Election.
He says the Office will conduct it's verification process on the availability and sustainability of these venues towards the end of this year.
Chandra says people can also give their feedback on the venues by online survey available on the elections office website.
The Office also launched the online register of political parties so that any voter or political party requiring any information on political parties can access it online.
People can access this on www.feo.org.fj