Fiji Commerce and Employers Federation Chief Executive Officer, Kameli Batiweti says whilst we are happy for our Fijians finding work opportunities overseas, and their relatives in Fiji receiving remittances, the fact is that we need to replace the lost work experience and qualifications.

Batiweti who was the Chief Guest at Fiji National University's first of three graduation ceremonies at the Vodafone Arena in Suva says they commend the efforts of FNU in scaling up the supply of qualified, skilled graduates back into the workforce.
He says FNU must continually capitalise on the TVET programmes it offers – some of which offered by the Colleges graduating includes the fields of agriculture, animal husbandry, agroforestry, wood processing, aquaculture, commercial agriculture, and horticulture, business start-ups, e-commerce and digital marketing, sustainable tourism, hospitality, plumbing, tile laying, brick laying and plastering basics – as it opens up a graduates career pathway and opportunities here in the trade sector in Fiji, as well as the regional and global market.
Batiweti says the College of Business, Hospitality, and Tourism Studies has the highest number of graduates in that session.
He says there are 396 graduands, of which 140 are males and 256 are females.
Batiweti says he is very excited with the number of females graduating in this field.
FNU Chancellor, Tessa Price congratulated the 559 students who graduated from the College of Agriculture, Fisheries and Forestry (CAFF), College of Business, Hospitality and Tourism Studies (CBHTS) and the National Training and Productivity Centre (NTPC).
Price says as a dynamic, modern university, looking to the future, FNU is determined to seize the opportunities for innovation and fresh thinking; and, in turn, to create opportunities for the students, communities, nation, and region.
FNU Vice-Chancellor, Professor Lyn Karstadt says all Fijians will be empowered with education, and skill sets so that they may be easily absorbed into the workforce.
She says a key focus will be on skills development and turning job seekers into job creators.
CBHTS graduate and recipient of the Pherrus Pty (Fiji) Ltd Prize for Best Student, Razia Rukshana Ali says her hard work and commitment enabled her to achieve success.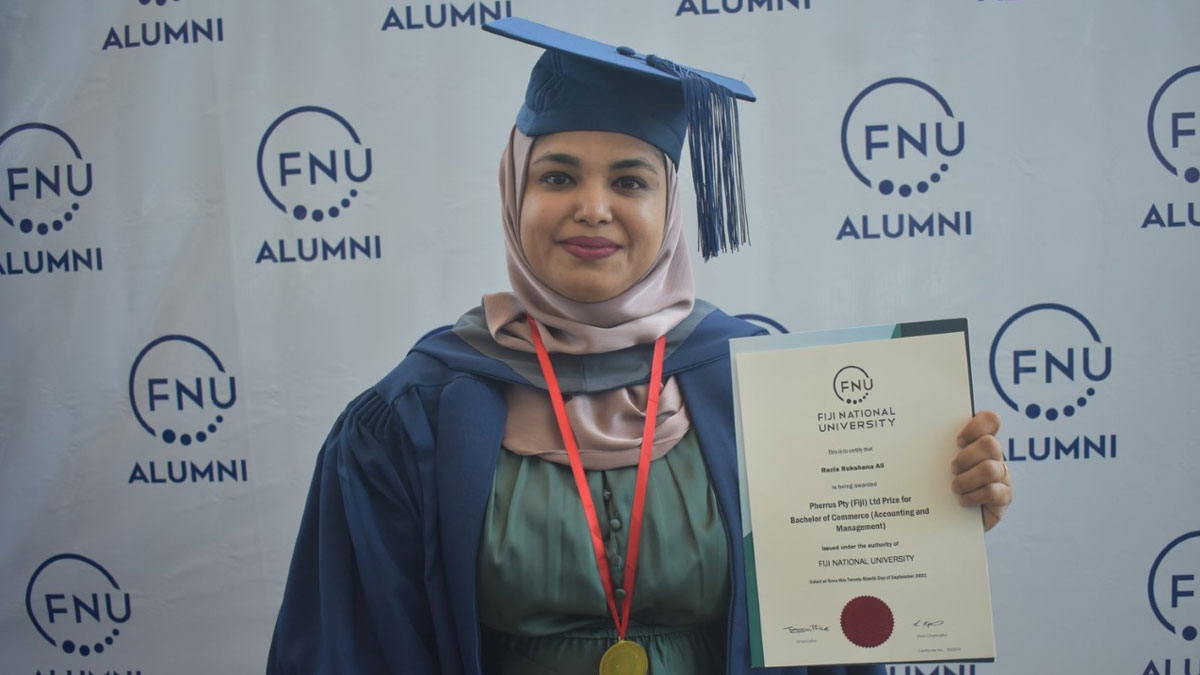 Pherrus Pty (Fiji) Ltd Prize for Best Student, Razia Rukshana Ali

Ali says this is a proud moment for her and her family as she graduates with a Bachelor of Commerce (Accounting and Management).
However, she says it was not an easy journey for her as she had to make sacrifices in life to graduate.