Jacinda Arden having a bowl of kava during her traditional welcome. [image: Fijian Government]
New Zealand's Prime Minister Jacinda Ardern says there is no confirmation as yet on the conversations about Fijians getting visa on arrival in New Zealand.
When asked by Fijivillage, she said they have had conversations as to ways in which it can be made easier in the future.
Fijians have to apply for a visa to visit New Zealand.
$11 million partnership between the Fijian and NZ Police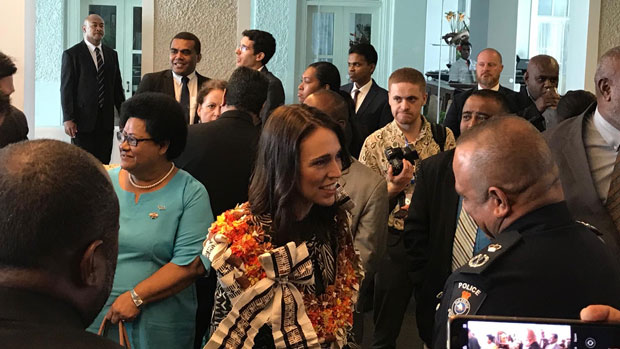 New Zealand's Prime Minister Jacinda Ardern has announced a $11 million dollar partnership between Fiji and the New Zealand Police  Force.
While making the announcement in a press conference at Grand Pacific Hotel in Suva, Ardern says $1 million will be used for enhancing the forensics laboratories in Fiji.
She says forensics labs play a critical part when seizures occur and it ensures successful prosecution.
Ardern has thanked Fiji for the warm hand of friendship that Fiji extended to New Zealand in New Zealand's darkest of hours – the Christchurch terror attacks last year.
She says that Fiji also suffered in this terror attack as three Fijian nationals had lost their lives.
She also invited Prime Minister Voreqe Bainimarama to visit New Zealand.
Ardern joked that she hoped Bainimarama does not visit when New Zealand plays Australia as Bainimarama would support the wrong team.
Our people's fates are bound by nationhood - Bainimarama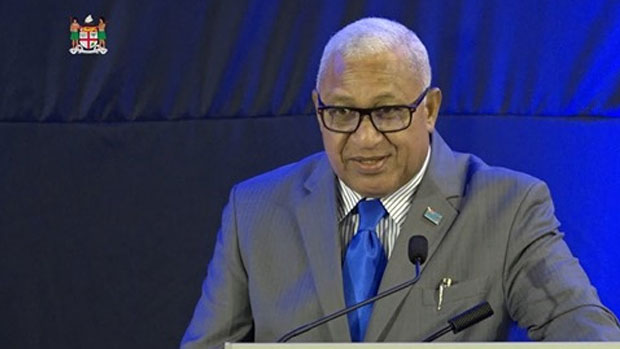 Fijian Prime Minister, Voreqe Bainimarama says he and NZ Prime Minister, Jacinda Ardern both see the power in a simple idea; the idea that no matter their background or creed, their people's fates are bound by nationhood.
While speaking at GPH in a joint press conference, Bainimarama says for much of Fiji's 50-year history as an independent nation, that was a revolutionary concept. But he says after shutting the door on decades of hurt and division, today, every citizen of this country can call themselves a proud Fijian, united in the purpose of building a better nation.
Bainimarama also says that through her inclusive and compassionate brand of leadership, Prime Minister Ardern has earned a profile that extends far beyond New Zealand, winning the hearts and minds of people in Fiji and all around the world.
He says he is glad to see it, because he believes our world badly needs more leaders like Ardern.
Bainimarama says what he has admired most is how – when tested by great adversity – she has summoned the spirit of unity in a way that not only lifts up the people of New Zealand, but inspires the wider world.
The Fijian Prime Minister says this afternoon, they held a wide-ranging discussion on how their surging partnership can deliver greater good in the lives of Fijians and New Zealanders alike.
He says New Zealand is Fiji's second largest regional trading partner. Every year, tens of thousands of Kiwis visit our shores, and Fijian and New Zealand businesses send flows of goods, services and investments across our borders that sustain and create jobs within our economies.
Bainimarama says with mounting uncertainty in the global economy, Prime Minister Ardern and he spoke at great length of new avenues of regional economic opportunity.
He says whether its building climate resilience and climate-focussed financial products, providing good housing, expanding access to home ownership, adding greater convenience and liveability to our urban centres, sustainably managing our farms and fisheries, building capacity in education and training, or opening new flows of trade, technology and expertise, they can look within our region, and to each other, to ride out the global economic headwinds they face, both now and on the horizon.
He also says Fiji is keen to fine tune it's systems by learning from New Zealand's goal to set the wellness of their people as the benchmark for good policy, from mainstreaming mental health to furthering women's empowerment.
Bainimarama also says that both Fiji and NZ recently joined Iceland, Norway and Costa Rica in a new Agreement on Climate Change, Trade and Sustainability, which the two leaders expect will generate global momentum to spur sustainable, climate-conscious flows of trade.
He says it's one of many ways Fiji and New Zealand are leading the global race to net-zero.
Bainimarama says he wants to congratulate New Zealand on passing its climate change response "zero carbon" bill.
He says Fiji is proud to join NZ on the right side of history by passing our own Climate Change Bill this year, which lays out our pathway to net-zero emissions.
Bainimarama says he knows he can count on Prime Minister Ardern to not only do the right thing, but to join Fiji in demanding the right thing from the rest of the world; specifically, ambitious commitments which limit temperature rise to the vital 1.5 degree target.
He also expressed Fiji's gratitude to Prime Minister Ardern for New Zealand's support of Fiji's peacekeeping deployment in the Golan Heights, as well as their pre-deployment training at Blackrock and their ongoing support of RFMF officers training at their peacekeeping institute.
Bainimarama says Fiji also proudly welcomes home 54 RFMF engineers who have spent five weeks in Australia assisting with the rebuild from the catastrophic bushfire crisis. That contingent was airlifted into Australia on NZ Defence Force Boeing 757.