Fiji Women's Crisis Centre Coordinator, Shamima Ali (Left) with Founder and Director of Sashi Kiran of FRIEND Fiji. [image: FemLink Pacific]
Civil society and NGO groups have today stated that they are deeply concerned about the growing humanitarian crisis in Fiji, in light of the Coronavirus pandemic and they have also called for a concerted effort to find urgent mid and long term solutions.
The Fiji CSO Alliance for COVID-19 Humanitarian Response is made up of 8 organisations working across different sectors in Fiji including Foundation for Rural Integrated Enterprises & Development (FRIEND), Fiji Women's Crisis Centre, Diverse Voices and Action (DIVA) for Equality, Citizens' Constitutional Forum (CCF), Social Empowerment and Education Programme (SEEP), femLINKpacific, Rainbow Pride Foundation and the Fiji Women's Rights Movement.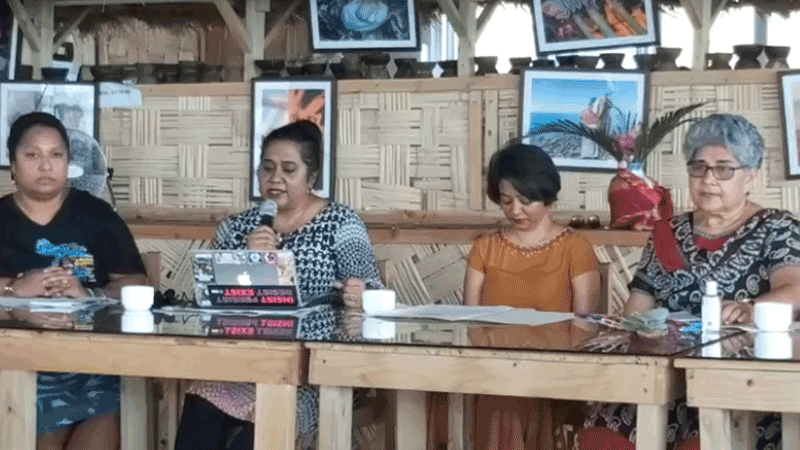 One of the Alliance members, Fiji Women's Crisis Centre Coordinator, Shamima Ali says their Alliance members have reported that resources to meet the demand from the people severely affected by COVID-19 is insufficient and humanitarian groups are forced to prioritise the most significantly affected communities, marginalised and the most vulnerable.
Speaking in a press conference in Lautoka today, Ali has asked why is it that only one person in this country has got all the brains and knows all the answers however she did not specify who she is referring to.
Ali says there is no bi-partisan approach in Fiji whereas if one looks at Zealand and other countries, their opposition parties and national governments have come together, leaving aside their differences to provide a national response to this pandemic and for the people suffering.
She says there are people with brains in this country, both in parliament and outside of it and there are other economists in the country as well.
Ali says we all have to take Fiji forward and address these issues.
She has also asked how can the government save money and what more can be done as a number of people are still accompanying leaders everywhere.
The Alliance is urging for a more informed mid-term and long-term comprehensive gender-responsive national plan to respond to the increasingly declining situation that many communities are facing.
They say the public needs to be informed of future plans.
Ali says we need a recovery plan that is sustainable and protects the dignity and livelihood of all Fijians.
The Alliance further says that the dramatic increase in job losses, food security issues, health and essential needs have taken a toll on many families and communities, as requests for assistance surge across the country.
They say the public is continuously being updated on COVID-19 restrictions but there is a critical need for a coherent and clearly communicated national response on recovery plans.
Ali says the pandemic has accelerated existing inequalities and human rights issues like hunger and malnutrition, poverty, violence, lack of access to health, housing and other essential services. The Alliance says government has recently announced plans to ease COVID-19 restrictions on social gatherings, freedom of movement, the resumption of school and an international travel bubble.
Ali says with some restrictions lifted, it is understandable that many of us cling to the idea of life returning to 'normal'. She says unfortunately, the devastation caused by COVID-19 will have a lasting impact.
The Alliance says families are still struggling to put food on the table for their children daily and meet basic necessities. They say with school reopening, they may not be able to cope with the additional cost of education and transport.