Tevita Ikanivere and his family at the Nadi Airport before their departure to England. [Image: Supplied]
Tevita Ikanivere associated himself more with tennis and hockey when he was young but he has now become a well-known star in the field of rugby.
Ikanivere's mother, Olimaipa Bogiciwa says her son never took part in rugby in primary school until he attended Queen Victoria School from Year 9 to Year 13.
His mother says he used to play tennis and hockey in primary school while attending Holy Trinity Anglican School.
She says despite Ikanivere being raised alone by her, he never lost focus on his interest to participate in a variety of sports.
Bogiciwa says the family was excited when Ikanivere was named to be part of the Fiji Water Flying Fijians as he is the second family member to wear the white jersey and represent Fiji in the Rugby World Cup. His uncle is former Flying Fijian, Sisa Koyamaibole.
She adds that her last advice to her son before they departed for France is to trust himself and give the best that he can in all the games.
She further says that when Ikanivere completed his studies at QVS, his grandparents advised him that if he wants to fulfill his rugby career, then he needed to attend school.
Ikanivere grew up on Benau farm in Duilomaloma Road, Waila in Nausori and attended Nausori Baptist School from kindergarten to Year 1 before moving to Holy Trinity for Year 2 to Year 8.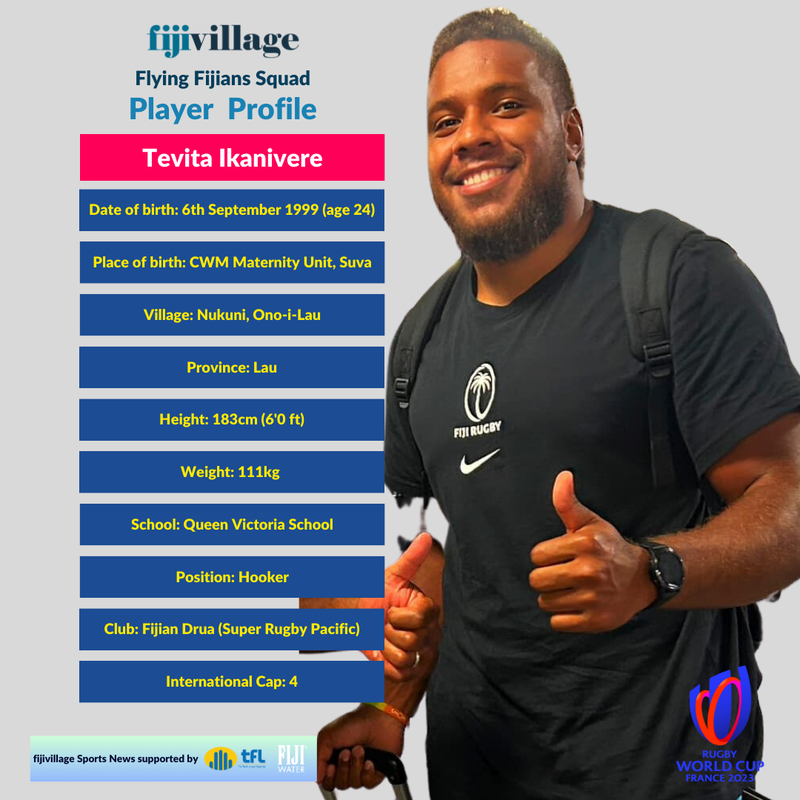 Ikanivere was selected by the Fiji Rugby selectors when he captained the QVS U18 team in the Vodafone Super Deans competition.
Ikanivere also played for the U20 Suva team and the Suva main team for the Skipper Cup.
He was also part of the Fiji U18, Fiji U20, Fiji Warriors, and Fijian Latui before becoming a full professional with the Fijian Drua in the Super Rugby Pacific competition.
Ikanivere was named in the Fijian Drua squad for the 2022 Super Rugby Pacific season. He had previously represented the Drua in the 2019 National Rugby Championship and he made his first debut against Georgia in 2020.
He is currently playing for Fijian Drua.
The Flying Fijians will play Wales in their first RWC game at 7am next Monday in Bordeaux.
The RWC kicks off this Saturday with hosts France taking on the All Blacks at 7.15 am in Paris.
You can check out all the Rugby World Cup stories, interviews, photos, videos and schedules on our website, fijivillage.