National Federation Party General Secretary Seni Nabou. [Image: NFP]
National Federation Party General Secretary, Seni Nabou says FijiFirst General Secretary, Aiyaz Sayed-Khaiyum should confine himself to diligently perform his responsibilities as the Attorney-General and Minister for Economy instead of trying to manufacture lies and conspiracy theories to try and discredit the NFP.
Nabou says the serious allegations against a party stalwart are frivolous, malicious, vexatious and defamatory.
She says the video that Sayed-Khaiyum refers to and claims breached campaign rules under the Electoral Act shows party stalwart Ahmed Bhamji speaking at a NFP meeting and the evidence he has submitted shows it was extracted from a "Vote for Change" Facebook page". Nabou says the NFP has never been associated with this Facebook page.
She says all their social media pages have been submitted to the Supervisor of Elections and they are their official pages.
Nabou adds the video showing Bhamji talking about TELS is not at any recent meeting nor associated with any event in respect to campaign or otherwise for the 2022 general elections.
She says this is clearly extracted from a livestream of the last rally for the 2018 general elections at Rishikul Primary School, which can be clearly found on the NFP Facebook page.
Nabou further says the image submitted by Sayed-Khaiyum has been deliberately edited to show only Bhamji because the full image, proves beyond any doubt of when the statement was made.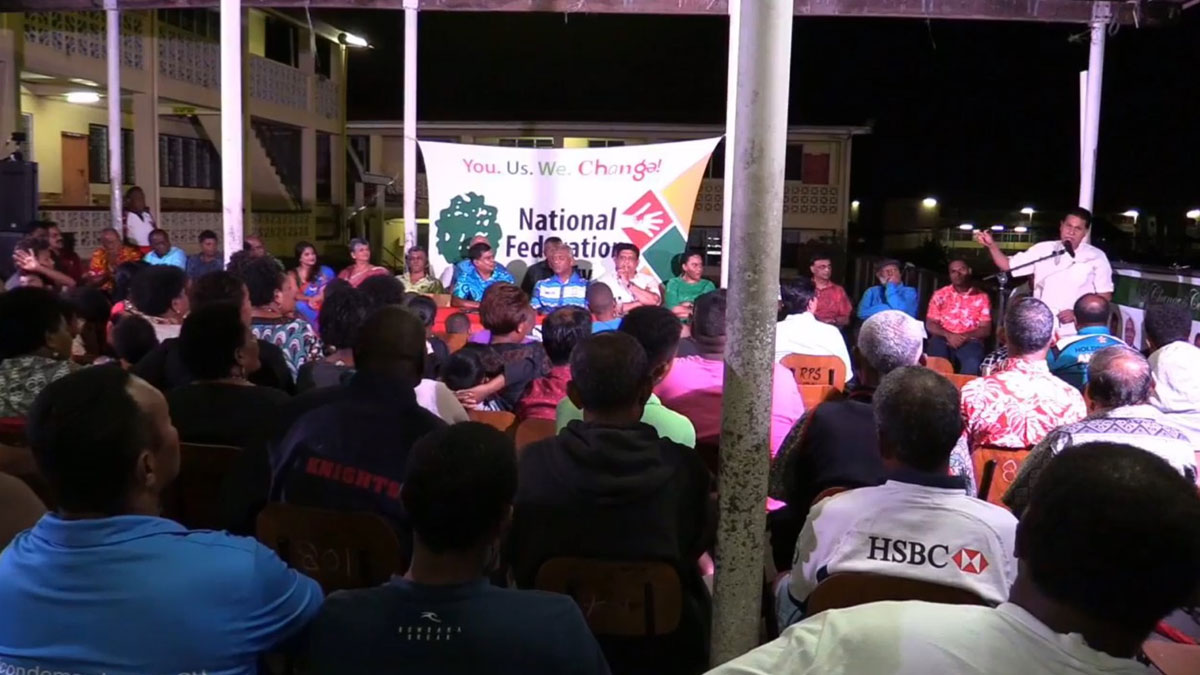 [Photo supplied by the NFP saying it is from a campaign meeting during the 2018 elections]
The NFP's General Secretary says the front line-up clearly shows candidates contesting the 2018 elections.
Nabou says Bhamji didn't breach any campaign rules because he addressed that meeting 2 years and 8 months before the Electoral Act was amended by Parliament in June 2021.
She says as Fiji's chief legal officer and defacto PM, Sayed-Khaiyum's reliance on manufactured evidence is political lunacy.
Nabou says as for his claim that a birthday invitation by someone who is an aspiring candidate has breached publication authorisation rules, Sayed-Khaiyum should first understand the difference between a publication and an invitation.
She says the invitation that Sayed-Khaiyum submitted to the FEO as evidence was designed and photocopied by the aspiring candidate and distributed to his family members and it is different from the official invitation prepared at the party HQ.
Nabou adds Sayed-Khaiyum's claims about overseas fundraising are ludicrous and based on assumptions and the NFP never conducted a joint fundraising drive with the People's Alliance both locally and overseas.
We have sent questions to Sayed-Khaiyum. He is yet to respond.