The Foundation for Rural Integrated Enterprises and Development (FRIEND) says allegations being made willy nilly by the Minister for National Disaster Management Inia Seruiratu is only slowing down their progress to assist people that need help on the ground especially because people in the Western Division still desperately need help after the recent floods.
This is after Seruiratu shared screenshots of a Facebook post with us by a Nadi resident distributing food rations by FRIEND.
The Nadi resident had the NFP logo as his profile picture and Seruiratu is claiming that it is a NFP supporter distributing food for FRIEND.
It has a photo of the man with the NFP Leader Professor Biman Prasad.
Seruiratu shared the screenshots after we asked him if he had evidence to support his comments in parliament about FRIEND only assisting NFP supporters.
He says he sent the screenshots to Professor Prasad after he made the comments in parliament.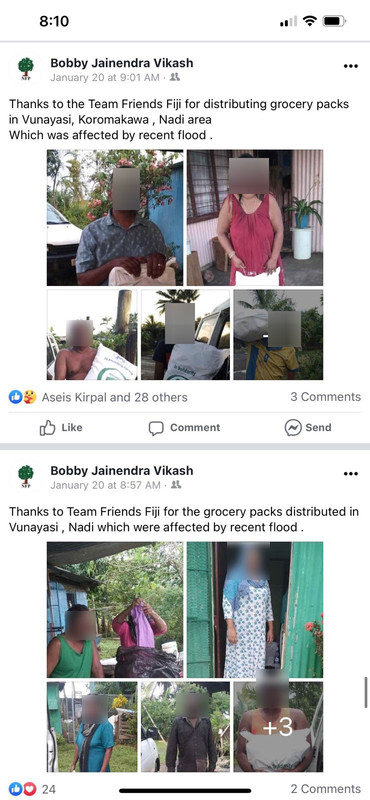 Seruiratu says his comments were aimed at the NFP and not FRIEND because he knows the work FRIEND does and they are a key partner when it comes to humanitarian work.
He is also questioning why FRIEND has been distributing food outside of the areas allocated by the Commissioner Western.
FRIEND Founder Sashi Kiran has stressed that they do not ask people what party they support when they are distributing food.
She says they even have photos of police officers and people wearing FijiFirst t-shirts distributing food.
Kiran says the person in the photos who Seruiratu is claiming is a NFP supporter is a former Advisory Councillor.
She adds they have been informed that this man had resigned in December last year.
Kiran further says there was no appointment done to replace the man during TC Cody therefore he was the one assisting people and sent the request for assistance to the District Office.
fijivillage has reached out to the man who is being claimed by Seruiratu to be a NFP supporter.
He is Bobby Vikash and lives in Navo, Nadi.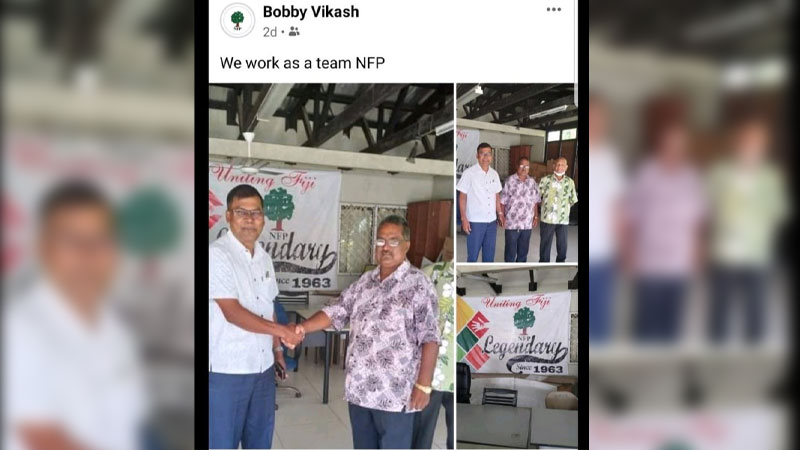 Vikash has told us that he was a former advisory councillor but resigned after he was asked if he had attended political party meetings.
He further says he has attended meetings for Fiji Labour Party, FijiFirst, SODELPA and NFP because as an advisory councillor he has to be the eyes and ears of the people on the ground and needed to know what people were being told.
Vikash says he does not support NFP and is still deciding on who to vote for.
He adds his profile picture has nothing to do with food distribution.
Vikash adds he has taken photos with the NFP Leader, the Attorney General and met with People's Alliance Leader Sitiveni Rabuka but that should not mean that he should not be distributing food to people that need help.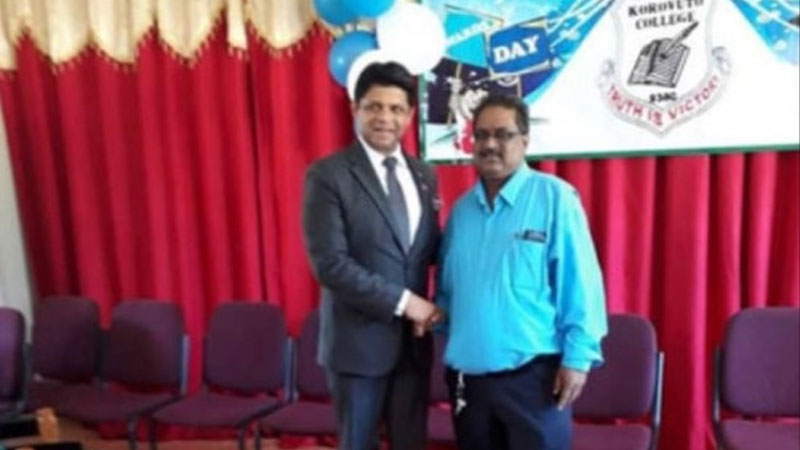 He says Minister for Agriculture Doctor Mahendra Reddy has even been to his home.

Vikash says he will not stop helping people in his community.
NFP Leader Professor Biman Prasad confirms that Seruiratu sent him the pictures when they were sitting in parliament.
He says it reflects very poorly on Seruiratu to be making certain assumptions and conclusions based on those photos.
Professor Prasad says the fact is there were people going hungry in evacuation centres during TC Cody because the government could not get its act together for 48 hours.
---
If Sashi Kiran wants to do humanitarian work then everything must go through the DOs - SeruiratuKiran says every assistance that FRIEND has given has gone through the DO's Office, Provincial Administrator & Advisory CouncillorBy Iva Danford
Thursday 10/02/2022
[image: Parliament of Fiji]
Minister for Disaster Management Inia Seruiratu says he had asked the Commissioner Western to talk to the CEO of FRIEND Fiji Sashi Kiran because if Kiran wants to do humanitarian work, then everything must go through the District Officers however Kiran says every assistance that they have given, has gone through the DO's Office, Provincial Administrator and Advisory Councillors.
Seruiratu highlighted this after NFP Leader Professor Biman Prasad had said that someone told him that in the West, right from Sigatoka to Rakiraki, people who moved into the evacuation centres had no food support for more than four days during the recent cyclone.
The Minister says that he had also told the Commissioner Western to inform Kiran not to go to the DO's office only for some assistance to be provided and then go to other places doing other distributions and she should stop it.
He says there is nothing in the law but the Act states that people are expected to at least sustain themselves initially for the first two days because the initial damage assessment that will be provided by the DO will come after 48 hours.
Seruiratu says those that patronise evacuation centres know this and they bring their, food, blankets and cooking stove.
He says there are smart people as well who wait in the evacuation centres until they know that it is 48 hours, and NDMO is about to bring the food.
Seruiratu says in the recent flooding in the West, FRIEND had informed the District Officer in Ba that they will look after 8 evacuation centres and this was consistent with the Act but after that, FRIEND was also seen in other areas distributing rations and this was a targeted hand out.
He says that FRIEND only assists NFP supporters.
Professor Biman Prasad then raised a point of order saying that Seruiratu is lying.
The Minister also said fijivillage had questioned him earlier to clarify if it was true that people were without food for more than 4 days after TC Cody.
While responding to Seruiratu's claims, Sashi Kiran says they do not ask people what party they support when they are providing assistance.
She says they just assist people who are in need.
She says instead of using parliamentary privileges to continue to challenge them, Seruiratu should just pick up the phone and contact them.
Kiran says if he cannot do that, Seruiratu should go down to the community and serve the people who are really affected by the floods.
She also says they have followed all the channels while providing assistance on the ground.
---