The Fijiana 7s team have kicked off their gold medal campaign at the Commonwealth Games in Birmingham with a solid 31 – 12 win over Scotland in their first pool match.

The team started off strong with an opening try by Reapi Uluinasau.
Scotland hit back shortly after with a try to Shona Campbell.
Adi Vani Buleki scored for the Fijiana seconds before the end of the first half to put them into the lead 14 – 5.
In the second half, Lavena Cavuru, Sesenieli Donu and Viniana Riwai scored a try each to extend their lead over Scotland and seal the win for the Fijiana 7s.
In other results, Australia thrashed South Africa 38 – 0 in the opening match.
The Fijiana 7s will play South Africa in their next pool game at 4:30am tomorrow and then play Australia in their final pool game at 8:22pm on Saturday.
The women's medal semi finals will begin at 6:42am on Sunday, the bronze medal match kicks off at 7:20am on Monday, followed by the gold medal final at 8:04am.
You can catch the live commentaries of Fiji's games with our top rugby commentator Antonio Rahiman and former Fijiana 15s openside flanker, Mere Moto on Viti FM on 92FM, 92.2FM and 92.6FM.
You can also download the fijivillage app to listen to the commentaries through the live radio option.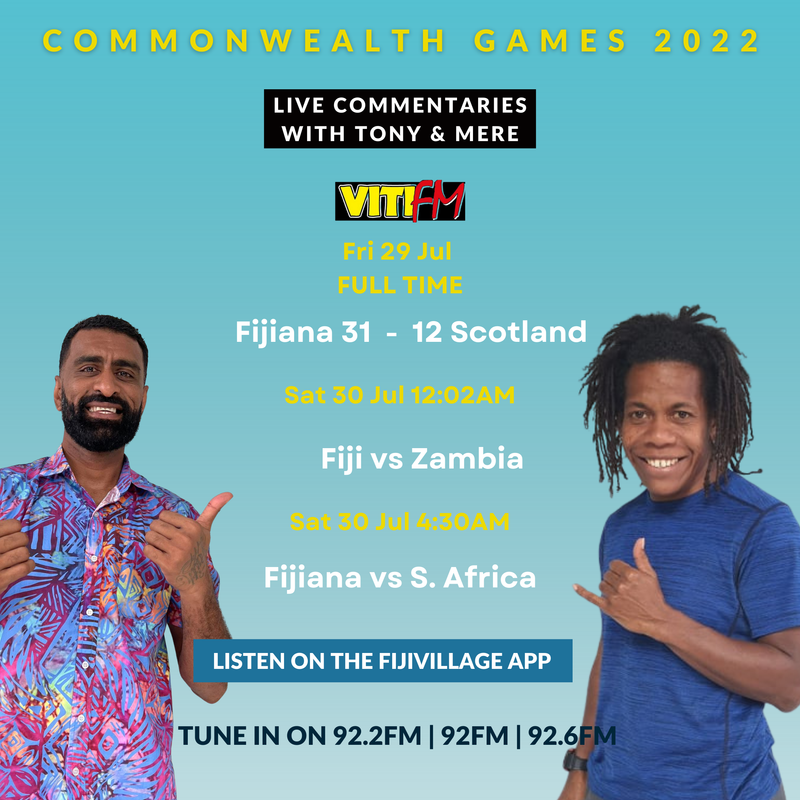 Fijiana 7s

vs

Scotland




Kick Off!

0-0



Try to the Fijiana from Reapi Uluinasau! Conversion successful

7 - 0






7 - 5

Shona Campbell scores for Scotland! Conversion unsuccessful 
Adi Vani Buleki scores for the Fijiana! Conversion successful 
14 - 5





HALF TIME!

14 - 5



Cavuru scores. Fijiana extend their lead in the second half!
    21 - 5





21 - 12

Rhona Lloyd strikes back for Scotland!

Sesenieli Donu scores for the Fijiana!

26 - 12



Viniana Riwai seals the win for the Fijiana!

31 - 12