Be ready for widespread heavy rain, flooding and damaging winds as Tropical Depression 05F is expected to develop into a cyclone early tomorrow as it heads towards Fiji.
TDO5F is located midway between Fiji and Vanuatu or about 550 kilometres West North West of Nadi.
The Nadi Weather Office says the system is currently moving North East at about 15 kilometres per hour and is expected to track South East towards Fiji in the next 24 hours.
On its anticipated development and track, the system may bring damaging winds over Yasawa Group and the Northern Division early tomorrow. Expect strong winds over the rest of the Fiji Group which may increase to damaging winds from later tomorrow.
The gale force and strong winds has the potential to cause destruction to weak structures, disruption of electrical power distribution and communication services.
It can also cause severe damage to crops and vegetation.
With the ground already saturated and more rain forecast, there is increased risk of landslides, flash flooding of low lying areas and flooding of streams and rivers.
If you are living in flood and landslide prone areas, remain alert and take precautions now.
Stay away from flooded drains, streams and rivers while drivers are requested to take extreme care as there is a risk of poor visibility in areas of heavy rain and thunderstorms.
TD05F which may possibly be a cyclone as it moves closer towards the group, can bring high waves of possibly more than 6 metres which poses the risk of possible high waves and coastal inundation along coastlines especially over Viti Levu, Vanua Levu, Yasawa and Mamanuca. The high waves will be enhanced during high tides.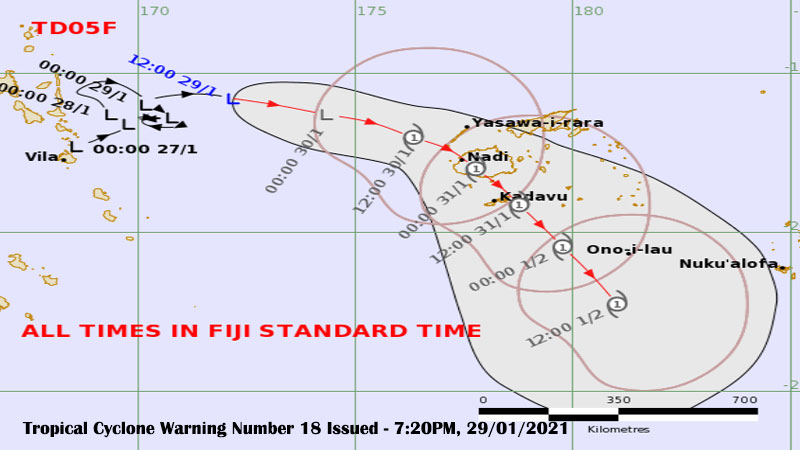 Sea conditions will be too dangerous for sailing and other sea activities.
A Tropical Cyclone Warning is in force for the whole of Fiji.
A flash flood warning remains in force for all low lying areas and small streams near major rivers of Viti Levu and Vanua Levu.
A flood warning remains in force for low lying areas, small streams next to and areas adjacent to and downstream of Qawa River in Vanua Levu, Nakauvadra and Penang rivers in Rakiraki, Nasivi River in Tavua, Matawalu and Vitogo rivers in Lautoka, Elevuka Creek, Navala and Ba River and Semo River in Sigatoka.
Areas that are already flooded include small streams next to Qawa River, Dreketilailai, Boubale and Urata crossings, Korovou flats between Tavua Town and Nadarivatu Junction, Ba Town and Rakiraki Town.
A Flood Alert is now in force for low lying areas and small creeks and streams next to and downstream of Keiyasi, Sigatoka, Nadi and Navua rivers.
Areas included in the flash flood warning for Vanua Levu are Nabouwalu to Labasa, Nabouwalu to Kubulau, Dawara to Naibalebale Village along Wailevu West Coast Road, Naibalebale Village to Savusavu, Savusavu to Natewa and Tunuloa, Koroalau, Saqani to Labasa.
Areas included in the flash flood warning for Viti Levu are low lying areas from Sigatoka to Lautoka to Rakiraki – Semo in Nadroga, Nawaicoba, Nadi Back Road, Lomolomo and Barara flats, Navutu flats, Lovu, Saru Back Road, Vuda Back Road in Lautoka, Koronubu flat, Namosau, Veisaru, Varavu flats, Nailaga and other low lying areas in Ba.
A heavy rain warning also remains in force for Viti Levu, Vanua Levu, Taveuni and nearby smaller islands, Yasawa and Northern Lau Group and is now in force for the rest of Fiji.
---
Remain indoors or move to high ground if you are in the West – SSP SamiBy Dhanjay Deo
Friday 29/01/2021
Kings Road at Matawailevu Junction in Ra. [image: FRA]
If you are in the Western Division, the Divisional Police Commander is urging you to remain indoors or move to high ground and he is also calling on people not to travel between Sigatoka and Rakiraki as a number of roads are flooded.
SSP Surend Sami says torrential rain from last night has caused widespread flooding in various areas in Sigatoka, Nadi, Lautoka, Ba, Tavua and Rakiraki.
Sami says there have been landslides at Matawailevu on Kings Road and Nukuloa Feeder Road in Ra.
He says there are 297 people currently taking shelter at 11 evacuation centres in the West.

Ba flooding at 4pm today
---
---
Flood waters have reached some villages situated near the Sigatoka River bankBy Dhanjay DeoFriday 29/01/2021
[images: Fijivillage]
Flood waters have reached some villages which are situated near the Sigatoka River bank.
One of them is Yavulo Village.
This is according to the Sigatoka Police Station who say the villagers are now moving to higher ground.
The water level in Sigatoka River is rising.
A number of roads and bridges in Sigatoka are now flooded.
These areas include Nadromai, Lawai, Raiwaqa, Kavanagasau, Tobotobo, Laqere and Tavuto.
---
---
No early curfew in place for now – NDMOBy Vijay NarayanFriday 29/01/2021
[image: Fiji Police]
There is no decision on an earlier curfew due to widespread flooding.
National Disaster Management Office Director, Vasiti Soko says officials continue to monitor the situation and any changes will be known based on the situation on the ground.
---
---
Maritime Transport to be suspended from 6pmBy Vijay NarayanFriday 29/01/2021

All maritime transport will be suspended from 6pm tonight.

NDMO Director, Vasiti Soko says this has been decided by the Maritime Safety Authority of Fiji.

Please secure your boats and do not go out to sea until the all clear is given.

---