The Nadi Weather Office says the centre of TC Ana is expected to be over the Ra Province as early as from 6am to 9am today and TC Ana will then be covering Viti Levu and continue over landfall. Stay safe.
The Nadi Weather Office says the system had moved to the west from its projected path, however it is now maintaining its South East track.
The Nadi Weather Office says the front part of Cyclone Ana is affecting Viti Levu to Kadavu and category 2 damaging winds being experienced will continue for most part of this morning into today.
They say the wind is expected to intensify as the system continues to move over Viti Levu today.
The Weather Office says the centre is expected to exit Viti Levu from the Central Division this afternoon.
The Weather Office adds the whole of Fiji will experience damaging winds today.
Please note that you will experience damaging winds a few hours before and after the centre of Cyclone Ana passes overhead or nearby.
A storm warning is in place for Viti Levu, Northern parts of Vanua Levu which includes areas from Labasa, Seaqaqa and Savusavu, Kadavu, Beqa, Lomaiviti Group and Moala.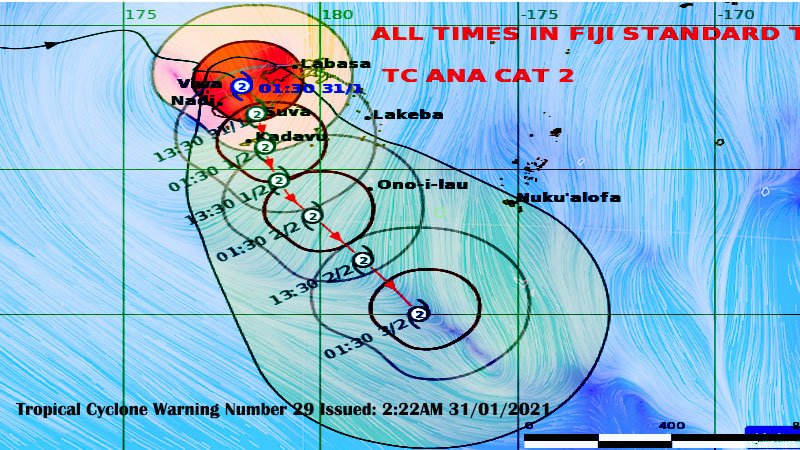 A tropical cyclone warning remains in place for Fiji.
TC Ana was located about 95 kilometres North East of Nadi at 1.30 this morning.
The Nadi Weather Office says people can expect winds of up to 95 kilometres per hour with momentary gusts of up to 130 kilometres per hour.
The strong and damaging winds have the potential to cause significant damage to trees, damage weak structures and houses and heavy damage to crops, disrupt electrical power distribution and communication services.
There is also a heavy rain warning for the whole of Fiji.
Prepare for more widespread heavy rain and flooding.
There is an increased risk of landslides, flash flooding of low lying areas and flooding of streams and rivers as the ground is already saturated.
A flash flood warning remains in force for all low lying areas and small streams near major rivers of Viti Levu and Vanua Levu.
You can also contact Police on 917, the National Fire Authority on 910, Energy Fiji Limited on 913, Water Authority on 5777 and FRA on 5720.