TC Harold Threat Track Map at 1:26PM 7th April. Photo: met.gov.fj
People are advised to take all precautionary measures now as continuous heavy rain and damaging winds are expected in Fiji from later today into tomorrow as Category 4 Tropical Cyclone Harold comes closer to the group.
The centre of TC Harold is currently located 600 kilometres west of Nadi. Harold is forecast to be a strong category 4 cyclone as it reaches closest to Fiji tomorrow.
It is travelling in an east-southeast direction at about 15 kilometres per hour. The Nadi Weather Office and Na Draki are both saying while it is predicted that Cyclone Harold will not make landfall over any of the islands of Fiji, the centre will pass close enough to the Mamanucas, southern Yasawas, Viti Levu, Vatulele, Beqa, Kadavu and southern Lau that they will very likely experience damaging winds with gusts to 90 kilometres per hour starting from later tonight into tomorrow and continuing for much of the day.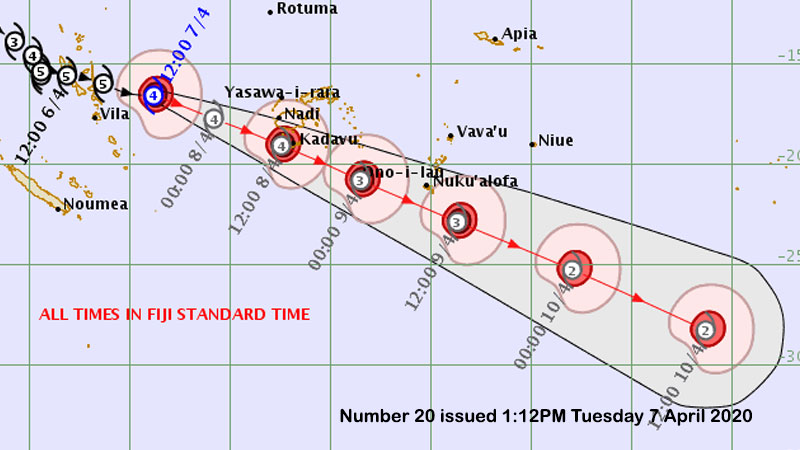 Kadavu and southern Lau will likely experience more destructive storm force winds gusting to 125 kilometres per hour during the middle of the day and through to the evening tomorrow.

Widespread heavy rain is expected across Fiji from today ahead of the cyclone.
Rain will continue tonight and through the day tomorrow with flash flooding initially followed by river flooding tomorrow, especially for the Nadi and Sigatoka rivers, but also the Navua and Ba rivers, and also later the Rakiraki river and the Rewa from the interior to Nausori.
The onset of gales around western and southern Viti Levu will coincide with high tide and a full moon around sunrise tomorrow with a high risk of sea flooding along the Coral Coast and western Viti Levu, and also coastal villages and tourist resorts in the Mamanucas and Yasawas. While the forecast guidance remains consistent in predicting that the centre of TC Harold will pass about 300 kilometresor more south of Viti Levu later tomorrow, the track could potentially change over the next 24 hours so you should prepare for the possibility of stronger winds than predicted should the cyclone move closer to Fiji.
Expected continuous heavy rain increasing further tonight with widespread local flash flooding about the western, central and northern divisions.
Heavy rain will then spread to the eastern division by tomorrow morning.
The one element of positivity is that the cyclone will be travelling at around 20 kilometres by this time and its presence in Fiji waters will be relatively brief in comparison to Vanuatu.
By tomorrow night the centre of the cyclone will be moving out of southern Lau waters.