A PUBG Fiji COVID Charity tournament will be held at 8 tonight to raise funds for people struggling to put food on the table due to the financial impact of the current COVID-19 outbreak in the country.
PlayerUnknown's Battlegrounds is an online multiplayer battle royale game.
This is an initiative by players DAC-Suvababy and Dan Fiji Gaming.
The tournament will be live-streamed and all donations to the live stream will be directed towards Operation Grace - a group that helps a family with a care pack every week.
Organisers say 25 clans have come forward to support this initiative.
A clan is a group created by a PUBG user, who can invite up to 50 players and participate in several in-game challenges to earn rewards.
They are calling on the Fiji gaming community to support this worthy cause.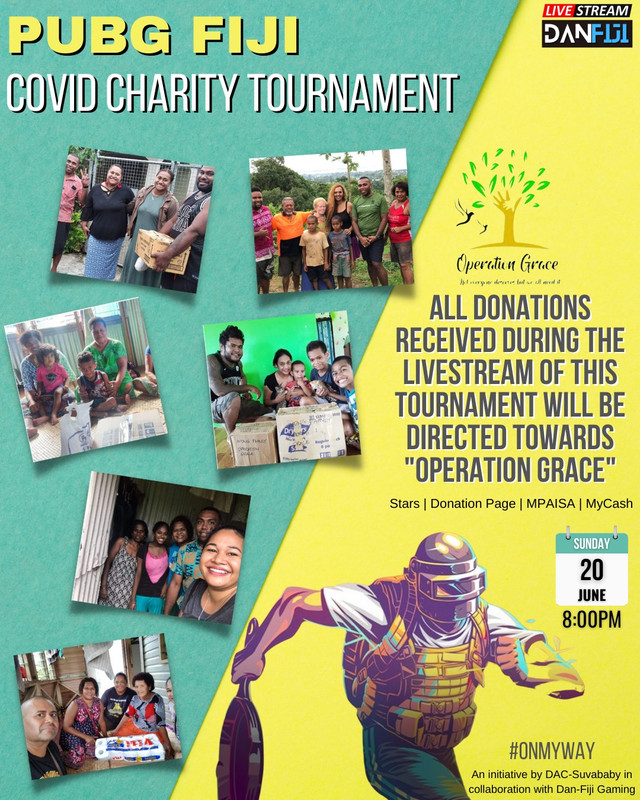 The donation details will be available on the livestream from 8 tonight when the tournament starts.
Operation Grace was formed in April.
Each week, the team receives requests through their Facebook page – Operation Grace or referrals from the Department of Social Welfare.
Members of the group then try to assist where they can as they do not currently have funding from anyone.
This means sometimes they pay from their own pockets or have good samaritans reach out to them with donations.
The group says their operation is strictly within areas from Nakasi to Lami due to their limited resources.
A $54 Operation Grace care pack includes 5kg flour, 4kg rice, 4kg sugar, 2kg dhal, 1 packed sanitary pad, 2 packets of biscuits, 2 5 pack noodles, 3 large tin fish, 1 washing soap, 1 750ml cooking oil, 1 packed salt and 1 10 pack toilet paper.
If you want to help Operation Grace, you can call Ela on 8745831.