Fiji Teachers Confederation Secretary General Agni Deo Singh.
The Fiji Teachers Confederation says they are considering to take legal action against the sudden notice of termination of contracts of the technical college staff while the FNU says the communication by the Director of Technical College, David Wedlock was not authorized by the Vice Chancellor's Office.
The University says they are investigating why the email was sent to some of their staff.
Members of the Fiji Teachers Confederation met yesterday where a working group has been set up to make decisions on the steps they will be taking.
Confederation Secretary-General, Agni Deo Singh says they are now going to work on strategies to address the grievances of the staff and consultations are going to take place this week.
He says all those staff are directly affected because they have been given letters clearly stipulating that their contracts will not be renewed beyond the end of this year and those who are on one year contract will not receive any severance package.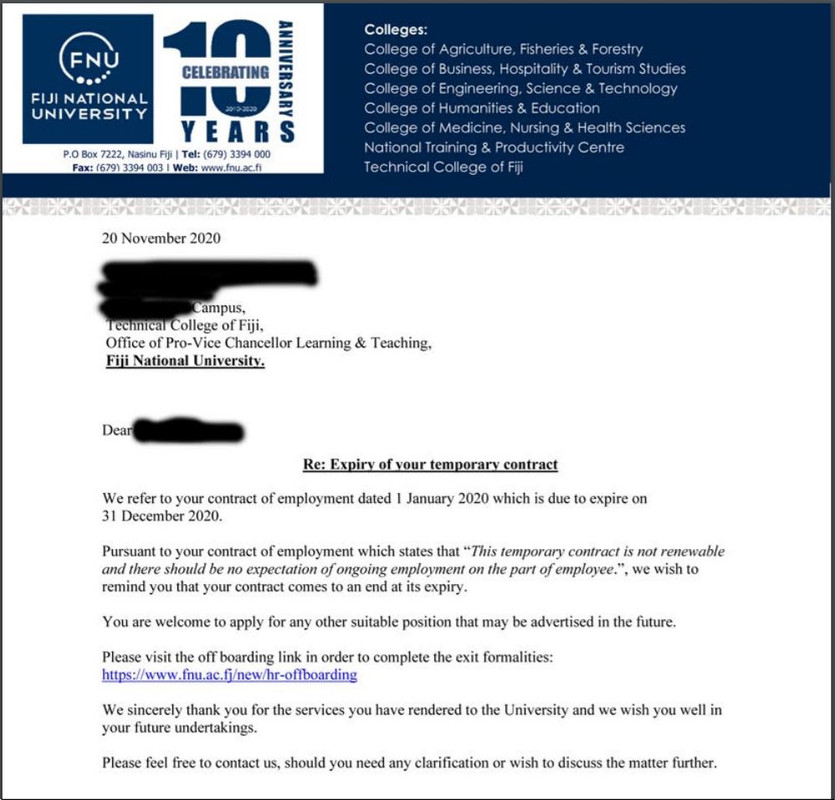 Singh says some of the staff signed a one year contract with FNU when the university took over the operations of the technical colleges from the Education Ministry and this one year contract does not recognise the service that they have provided by not offering the redundancy package considering their years of service.
Singh says the staff had legitimate expectations that there will be continuation of work for them because the closure of the colleges in this manner was never expected and it has come as a shock to them.
When asked about FNU's comments that they are currently reviewing the technical colleges and that they have not told the members that government did not pay them the shortfall amount, Singh says the statement that has come from them is a lie.
The Secretary General says the figures of the shortfall, cost of operations and the amount the university has available was given to them by the university and the same figures were given to the staff during their consultation.
He says subsequent to their meeting, the staff were also told that government was not forthcoming with the money and they were compelled to close these centres.
We have sent questions to the University and are expecting a response from them soon.