Marama Niu founder Kylie Patterson and business partner Jojina Ah Yuk.
Two friends who have become business partners are now expanding their ice cream business due to the increasing demand of their locally made ice cream, Marama Niu.
Marama Niu founder Kylie Patterson and business partner, Jojina Ah Yuk today launched their new chocolate coated Nice Cream.
Patterson says it hasn't been an easy journey to put out a range of products and flavors as operating out from home comes with its challenges.
Patterson's says the idea developed from an experiment in 2018 after she came across a relative eating coconut based ice cream.
She went on to do further youtube and google research that surprised her as she then realized that apart for the coconut usage in our diet as islanders, coconut flavored ice cream was another option.
Prior to the brand being named, Patterson took to social media to market her home made ice cream and was overwhelmed with orders.
In 2020, the COVID-19 lockdown was a blessing in disguise as it gave Patterson more time to focus on the product as she teamed up with Jojina Ah Yuk.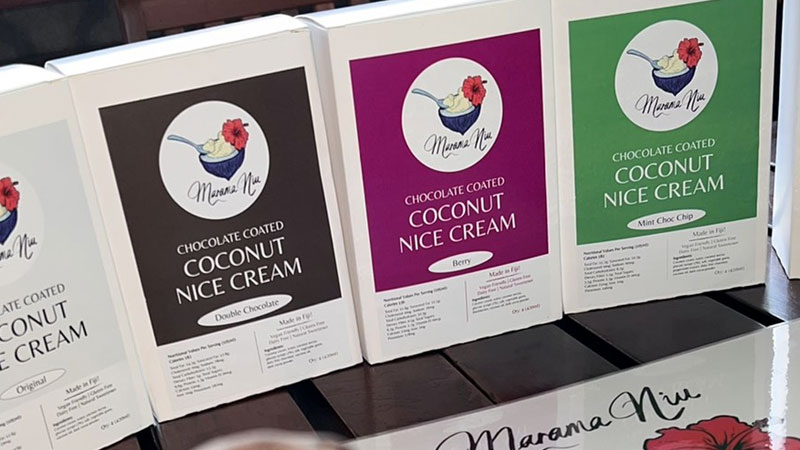 The new range of ice cream is coconut based, dairy-free and gluten-free.
The ice cream is sweetened using a locally sourced natural sugar that's made by the Rabi and Kioa community.
Patterson says their ice cream is a healthy alternative for those who are watching their sugar levels as coconut nectar has a low glycemic index and it is perfect for the those who are gluten and dairy intolerant.

A box of Marama Niu ice cream consists of ten chocolate coated ice creams on a stick, which is two of each from their five flavors and cost $25 a box.
The five flavors are Original, Double Chocolate, Berry, Mint Choc Chip and Coffee.
The Marama Niu chocolate coated ice cream can be purchased from Kundan Singh Supermarket and Corner Bakery in Tamavua.