Fiji Teachers Union General Secretary, Agni Deo Singh and Minister for Education Rosy Akbar
Minister for Education, Rosy Akbar has slammed Fiji Teachers Union General Secretary, Agni Deo Singh for misleading Fijians and saying that the Education Budget has been reduced from $800 million to $467.7 million.
Akbar says this is a blatant lie.
She says the correct Education Budget is $714 million.
This includes the funds allocated for higher education institutions, the Tertiary Education Loan Scheme and the National Toppers Scholarships.
Akbar says it is appalling that Agni Deo Singh insults the intelligence of Fijians by trying to blatantly mislead them.
She then says that what's even more concerning is the lack of fact-checking done by the Fiji Times before publishing the fake news on the budget their front page.
When Fijivillage questioned Singh on his comments on the Education budget, he said that he has to go back and look through the figures, and then comment on it.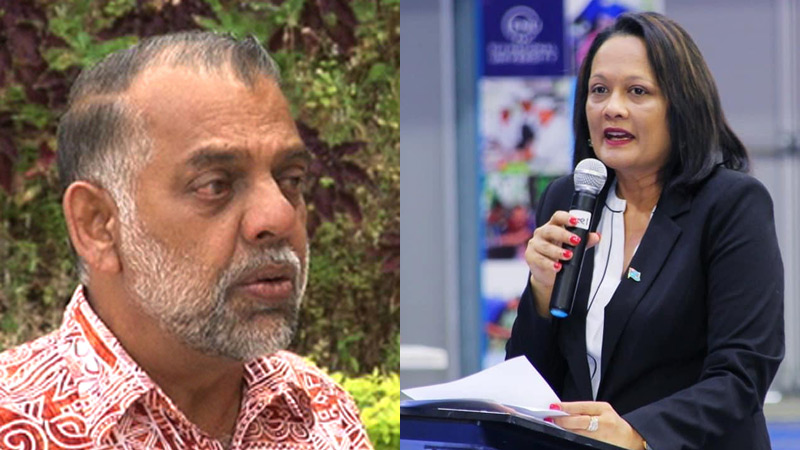 Ministry will not dictate what food parents wish to give their child – Akbar
The assistance is insufficient – Singh
Minister for Education, Rosy Akbar says the ministry is not going to dictate what food parents wish to give their child as the government is providing various forms of assistance however the Fiji Teachers Union General Secretary, Agni Deo Singh says the assistance is insufficient.
Akbar says these are nutritional choices they leave to parents and assist them through many incentives, like free education, water and electricity subsidies and other grants and benefits.
She says the government already provides relief assistance to families affected by COVID-19 in the form of $220 every fortnight and $20 million has been set aside for unemployment benefits.
The Education Minister says headteachers have been briefed and must act accordingly to look after the interests of children in their care, but parents must also ensure they fulfill their parental responsibilities.
Akbar says strangely, FTU was silent when opposition politicians demanded for civil servant pay cuts and did not make a single statement. She says the government retained full pay for all civil servants including the teachers, and retained the full benefits of free education for our children.
She says Agni Deo Singh and FTU need to decide if they are here to serve the teachers as they claim or their own political and financial aspirations.
Akbar has also thanked the many religious groups, youth groups, NGOs and other entities and individuals who have taken action to provide help to Fijians during this pandemic.
She says we have many good samaritans in Fiji who have spent their time assisting our people and they are bright lights during these dark times.
Akbar says we must follow their example.
The Ministry of Education Heritage reiterates that providing a nutritious lunch is a parental responsibility.
Akbar says there are many factors that need to be taken into consideration when providing food such as allergies, dietary preferences, religious beliefs which do not allow eating of certain foods, students from different backgrounds in religious schools, food safety and storage, transportation, OHS and cooking resources.
However, Agni Deo Singh says they stand by their comments that they are concerned with the number of students taking packets of dried noodles for lunch in schools along the Coral Coast.
Singh says they received the information from the headteachers and they believe the government's assistance is not enough.
Singh says he will not make any comments at this stage on why they did not say anything on the earlier calls for pay cuts for civil servants.