Permanent Secretary for Health Doctor James Fong. [image: file]
Permanent Secretary for Health, Doctor James Fong has announced 126 new COVID-19 cases in the 24 hour period ending at 8am yesterday.
There have been 2020 cases during the outbreak that started in April 2021.
Doctor Fong says they are sadly reporting another death at CWM Hospital.
This is a 42-year-old male admitted to the hospital with leptospirosis.
Doctor Fong says the man also tested positive for COVID-19 during his admission.
His death is being investigated by his doctors to determine if it will be classified as a COVID-19 death.
Doctor Fong also says they have recorded an increase in new cases from the Lami area.
The Ministry is working with other Government agencies and the community to establish additional isolation facilities in the Lami area to cater for the positive cases from the area.
He says additional isolation facilities have also been pursued in the Nausori area to complement the current capacities they have, and to cater for positive cases from the Nausori area.
Members of the public are advised to continue to practice COVID-19 safe measures to protect themselves, their families, and their communities.
Doctor Fong says an important part of the COVID-19 response was to use various technologies available to them, and these technologies were of immense benefit to their organizing of information for planning, implementation and deployment of their resources.
He says one such technology is the use of geospatial information, which greatly assisted his team in organizing the information collected from the ground and presented in a map that could be understood by the team and those on the ground.
He says they pleased to announce the launch of the COVID-19 Dashboard, where active cases in Fiji can now be viewed online using an interactive GIS Dashboard.
The Dashboard will give members of the public an interactive map that provides information on active cases and their locations.
As long as users have an internet connection, they can navigate on the map to view the case spread at various locations across the country.
It is anticipated that this dashboard will provide members of the public situational awareness of where the active cases are, and follow the relevant safety guidelines put in place by the Ministry to protect themselves and their families.
Doctor Fong says on behalf of the Ministry of Health, he would like to acknowledge the Ministry of Lands and Mineral Resources for providing their geospatial information resources for this dashboard.
Meanwhile, there have been 59 recoveries since the last update, which means that there are now 1542 active cases in isolation.
Fiji has recorded a total of 2090 cases since the first case was reported in March 2020.
There have been 532 recoveries, and 7 deaths due to COVID-19 in Fiji, with 5 of these deaths during the current outbreak
8 COVID-19 positive patients have died from pre-existing non-COVID-19 related illnesses.
1 death is under investigation.
A total of 130,002 samples have been tested since this outbreak started in April 2021, with 172,863 tested since testing began in early 2020.
He says vaccination has recommenced at the 16 vaccination sites and 4 mobile teams in the Western Division, and the 12 vaccination sites and 1 mobile team in the Central Division.
The Ministry will be providing an update on yesterday's vaccination activity in today's report.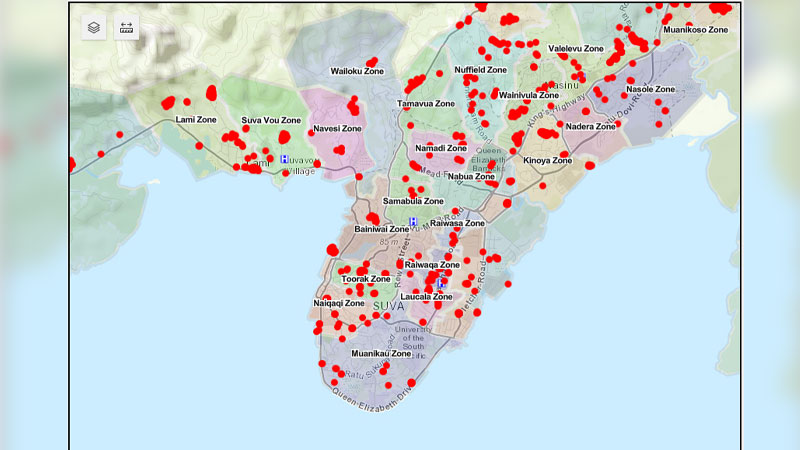 [image: Fijian Govt./Facebook]