Professor Biman Prasad.
National Federation Party Leader, Professor Biman Prasad is raising the question on why misleading statements are being made by the Fiji National University and the Government on technical colleges after the party released an alleged memo sent out by FNU's Director of Technical College David Wedlock clearly outlining all technical colleges with the exception of five throughout Fiji will be closed at the end of the year. Professor Prasad says the documentation proves only five colleges will remain open throughout Fiji after 31st December.
Questions have been sent to the Minister for Economy, Aiyaz Sayed-Khaiyum and Minister for Education, Rosy Akbar. They have referred all questions to FNU.
More than 300 staff are employed at the 15 campuses of the technical colleges.
The NFP Leader says the statements by the Attorney General and FNU's Acting Vice-Chancellor that a review was being conducted is misleading as technical college staff have been informed that their employment will be terminated on 31st December.
He says according to the memorandum all contracts ending on 31st December won't be renewed and only all staff on contracts ending beyond 31st December 2020 will receive a redundancy package of one month's pay plus one week's pay for each year of service.
The alleged memo says staff whose contracts will be terminated are encouraged to apply for positions that would be advertised if the Education Ministry fails to employ them.
Professor Prasad claims it is clear that government was consulted by FNU before this drastic step was taken to curtail meaningful employment of technical college teachers and abruptly end the education of students aspiring to qualify for suitable jobs.
He asks why are both FNU and government behaving in a sinister manner having already decided to slash jobs and education without any prior notice.
FNU says the management is not aware, nor has it authorised any communication to the staff with regards to their contracts and will be investigating the contents and origin of a letter that states all except 5 campuses will be closing. 

The Fiji Teachers Confederation says they are aware of a letter that is being circulated amongst the staff of the technical colleges of Fiji that states that their contracts will be terminated by the end of this year however FNU says they have not authorised any communication to the staff regarding their contracts.
Fijivillage has been informed by some of the staff that they have been told their contracts will be terminated next month although they have a contract until 2024.
Minister for Economy, Aiyaz Sayed-Khaiyum had announced in the 2019/2020 National Budget that the administration of the technical colleges will come under the Fiji National University.
Prior to this, the 15 colleges and all staff came under the Education Ministry.
Education Minister, Rosy Akbar had said last year that the Technical College of Fiji was established to give opportunities to children who have been left out, marginalized because of their circumstances pushing them to drop out of school and thus losing hope for a brighter future.
Akbar said the Fiji Higher Education Commission has been working with the Technical College of Fiji to have quality assured programmes in place.
Secretary General of the Fiji Teachers Confederation, Agni Deo Singh has confirmed to fijivillage that he has met with the Director and the team of the FNU Human Resources Department and they were advised that the total cost of running the 15 campuses of the technical colleges is $13.1 million.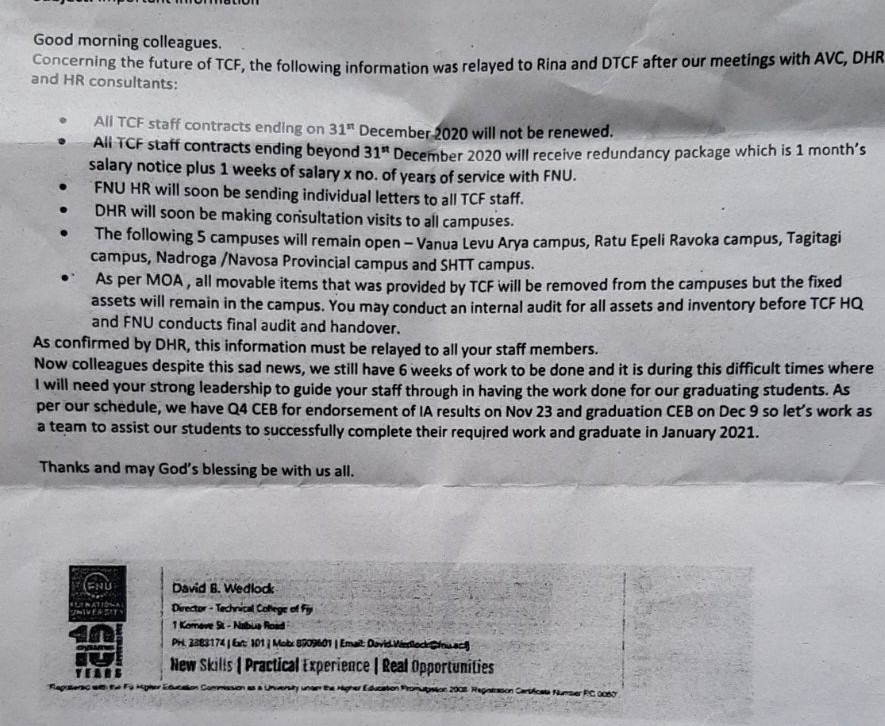 He says they have informed him that the income that is generated through the Tertiary Education Loan Scheme from these colleges is a little below $5 million so there is a shortfall of $8.1 million.
Acting Vice-Chancellor, Doctor William May has confirmed to Fijivillage that a review of the Technical and Vocational Education and Training programmes is currently underway.
FNU is reviewing its learning and teaching resources, programme quality, teacher qualifications, student numbers and facilities.
He says they are into the final stages of the review exercise and are unable to disclose any information at this point without following due process.
Dr. May says once all the processes are complete, the University will make a public statement.
When questioned on Singh's claims about a meeting with FNU and the situation regarding their finances, Dr. May says the Fijian Government has also always placed great emphasis on Technical and Vocational Education and Training, which is deep-rooted in their education plan.
He says FNU is at the forefront of carrying out the government's initiatives towards continuously improving the delivery of TVET programmes to suit the evolving job market.
The Vice Chancellor adds that they are confident that the way forward for TVET education will result in the students receiving quality tertiary-level education that encourages both innovation and sustainable learning and faster job prospects.