The paid advertisement from The Grace Roads Church that appeared in The Fiji Sun.
There are still no comments from Fiji Sun, MIDA and Grace Road Church on claims made by Grace Road Church in a paid advertisement in the Fiji Sun claiming the reason for the COVID-19 outbreak is the unjust persecution, imprisonment and slandering of its leader Reverend Okjoo Shin as a cult.
We have asked MIDA if this conforms to the Code of Ethics for Advertising in the Media Act.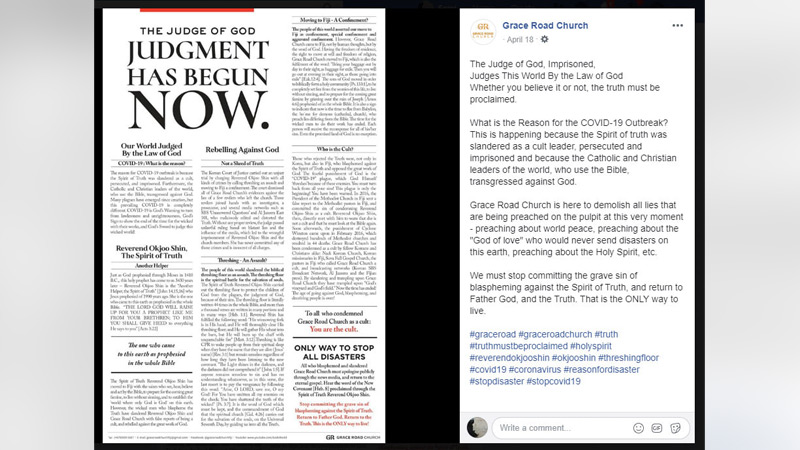 Grace Road Church made this claim in the paid advertisement titled "The Judge of God - Judgement Has Now Begun".
Under the sub-heading - "COVID-19: What is the reason?" Grace Road Church said, "We believe the reason for COVID-19 outbreak is because of Spirit of Truth was slandered as a cult, persecuted and imprisoned".
The leader of Grace Road Church Reverend Shin is mentioned in the advertisement as "The Spirit of Truth Reverend Okjoo Shin".
The Health Ministry and WHO have stated that COVID-19 was discovered in late December 2019 after an unusual cluster of pneumonia cases was noted in Wuhan City, Hubei province, China.
On December 31st last year, China alerted the WHO to several cases of unusual pneumonia in Wuhan, a city of 11 million people.
The virus was unknown.
Several of those infected worked at the city's Huanan Seafood Wholesale Market, which was shut down on January 1.
As health experts worked to identify the virus amid growing alarm, the number of infections exceeded 40.
On January 11th, China announced its first death from the virus, a 61-year-old man who had purchased goods from the seafood market.
Treatment did not improve his symptoms after he was admitted to hospital and he died of heart failure on the evening of January 9.
Grace Road Church says they have violated neither the law of God nor this world's law.
The son of the founder of the Grace Road Church Daniel Sungdo has refuted the charges of Assault, Incarceration, Child Abuse, and Fraud which his mother Reverend Okjoo Shin and the Church have been accused of by people they are calling traitors.
Sungdo says their church has violated neither the law of God nor this world's law.
The founder, Reverend Shin is serving a sentence of six years in prison for detaining her followers in Fiji and subjecting them to violence and barbaric rituals.
She has been serving for more than 1 year and 8 months.
The Suwon District Court, in South Korea, jailed her for keeping some 400 followers in captivity in Fiji, with their passports reportedly taken away by senior church leaders.
The court also said the followers spend their days performing forced labour and attending evening sermons.
In a more than 17 minutes video on its social media page, Sungdo addressed the issue directly saying "But to the self-proclaimed Christians, pastors, missionaries and the General Assembly who accused our Reverend and Grace Road Church of being a cult, to the people who were among us who discovered the truth and forsook the truth through their false testimonies, and the investigator (the son of a self-proclaimed missionary) who allied with the traitors with his devious plots, and to the press who turned a blind eye to the truth and branded our Reverend and our Church with intentionally maligned and devious editing: You have sued Grace Road Church, the group of true Christians who see, hear, believe and act by the Bible"
Grace Road Church has also been long accused of severe public beatings known as "ground threshing".
Sungdo says what is so wrong about them carrying out threshing on the floor as written in the bible by understanding the word of truth.
He says they made a resolution to themselves and they slapped themselves adding how is this assault.
Sungdo says they are confident to confess and testify that all churches must carry out the biblical threshing floor and show an example that people are able to live by the law of God without requiring the world's law.
The Grace Road Church has also started a petition for a retrial of their leader's case in South Korea.
In a statement, the Church said "Grace Road Church's Reverend Okjoo Shin was sued by plaintiffs composed of people who claim to be victims on grounds of "bodily harm, special assault, assault, aggravated confinement, special confinement, fraud, violation of commercial law, violation of child welfare laws (neglect, abuse) and abetment of assault, sentenced to 6 years in 1st trial, 7 years in 2nd trial, and our appeal was dismissed at the Supreme Court"
Reverend Shin has been held in a detention centre from 24th July 2018 until now.