Prime Minister Voreqe Bainimarama has today thanked the Minister for Economy, Aiyaz Sayed-Khaiyum and his team for putting forward a national budget Fiji needs in this moment of challenge.
While speaking during the 2020/2021 National Budget debate in parliament, Bainimarama says the Leader of the Opposition, Sitiveni Rabuka has been harping about bipartisanship but Rabuka is the one who brought racial differences in 1987.
The Prime Minister says they are poles apart as SODELPA preaches a divisive society, and are even fighting amongst themselves but showing as if butter would not melt in their mouth.
Bainimarama says the Opposition Leader does not seem to understand the measures and strategies put together to deliver the national budget.
The Prime Minister says Rabuka should wake up from his slumber and smell the coffee. He says organisations like the UN, the World Bank and International Finance Corporation have given a thumbs up to Fiji's bold budget.
Bainimarama says if you have spent this pandemic locked in the Novotel and Holiday Inn he does not expect you to comprehend that greater, global picture that the world is facing.
He says you can't take a view on this new era of economics when you can't see further than your own party's future, and your own rank and privilege. He says with regards to some supposed economists, he is not sure what excuse they have for the pathetic quality of their commentary on this budget.
Bainimarama says they have no problem debating policy as that's the point of democracy. But he says what bothers him is that these people aren't interested in well-intended debate. He says they aren't even interested in reality, much less real analysis.
The Prime Minister says these are people who disturbingly have made full-time careers out of rooting for Fiji to fail. He says that is how they make their money and this crisis has exposed there are no lengths to which they won't go and there are no lies they won't tell to keep themselves in business.
Fiji's smart borrowing has been widely endorsed - PM
Our promise to the cane farmers will be delivered – Bainimarama
By Vijay Narayan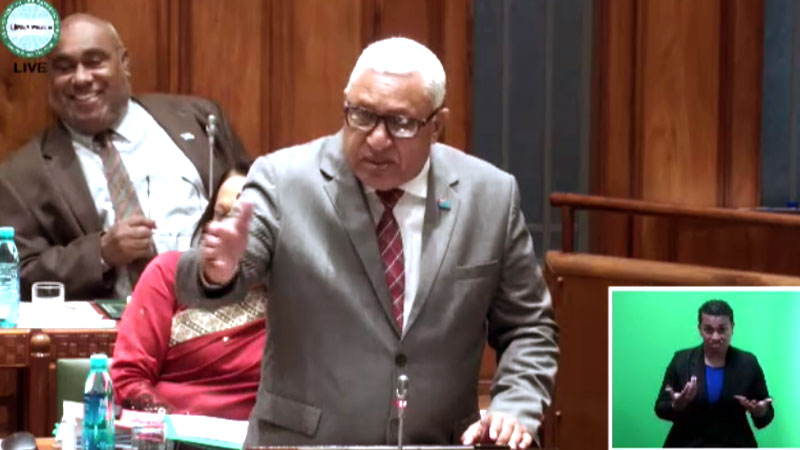 Prime Minister, Voreqe Bainimarama says Fiji's strategy of smart borrowing has been widely endorsed, including by the United Nations.
While speaking in the 2020/2021 National Budget Debate, Bainimarama says Fiji's multilateral partners see the prudency behind all of the budgets.
The Prime Minister says these are institutions run by actual economists, with whole teams dedicated to reviewing our economy, and they trust Fiji. He says that is why they have stood with Fiji through this crisis.
Bainimarama says the Opposition can shut their eyes to these global realties all they want and the Prime Minister says he really does not care. He says he puts his stock in the international economic experts over failed former professors.
The Prime Minister says anyone with eyes can see that every dollar of the well-structured, carefully targeted two-billion-dollar stimulus package in this budget has been allocated to save the economy, to serve people, to sustain jobs and to create new ones.
Bainimarama says the budget gives help where it's needed most, granting $100 million in direct government unemployment assistance.
He says this assistance is allocated not only to those whose jobs have been lost but to those who are working on reduced hours.
Bainimarama then gave an example that he could announce there is a cure for COVID-19 but the Fiji Times will still have a front page story of Biman Prasad.
He says the newspaper company and the Opposition Leader keep talking about debt servicing payments but fail to highlight that the debts were mostly accrued prior to 2007.
Bainimarama says the social security they have built over the years remains, free education is funded, social welfare payments are being paid, subsidised transportation to school continues and free textbooks are paid for.
The Prime Minister says the government won't be slashing the salaries of the civil servants they need to help put this economy back on its feet and to support the people who have suffered the most, much to the disappointment of Biman Prasad.
Bainimarama also says that the government has promised cane growers a guaranteed price per tonne of 85 dollars for three full seasons. He says that promise will be delivered.
He says the first three payments of the third season will be paid at $70 per tonne, but in the fourth and final wash-up payment, they will make up the full amount of $85 per tonne, as they always do.
Bainimarama also says they have provided nearly $300 million in direct support to cane farmers over the past seven years.