President-Elect Joe Biden and First- Lady Elect Gill Biden. [Image: cnn]
On Saturday November 7, 2020, the Associated Press called the 2020 US presidential election in favour of Democratic presidential candidate and former vice president, Joe Biden, making his English professor wife, Jill Biden, the next First Lady (only after the votes have been certified and the electoral processes followed will Biden be sworn in as the 46th President of the United States (POTUS) and his wife become the First Lady of the United States (FLOTUS)).
With Joe Biden previously holding the role of US vice president, Jill Biden is no stranger to the White House, having served as the second lady during his tenure.
And, while certainly not as high profile as FLOTUS, being the second lady and having a husband in senior political roles has meant we have seen Jill Biden step out in a number of statement-making looks for important events, as well as on the campaign trail with her husband.
However, once the Bidens officially move into 1600 Pennsylvania Avenue, Washington DC, we're expecting to see Jill Biden's style evolve in her new role to accommodate the many more state occasions and events that will undoubtedly fill her diary (although Jill Biden's diary is already pretty full given she is an English professor, her day job reportedly being one she is expected to continue to do even as first lady).
Following the Associated Press calling the election in Joe Biden's favour, the "educator and military mom" as Joe Biden reportedly called his wife during his victory speech, Jill Biden showed off seriously strong sartorial game.
For Joe Biden's victory speech, the professor stepped out with her husband wearing a unique asymmetrical black dress with floral embroidery, identified by Glamour as an Oscar de la Renta dress.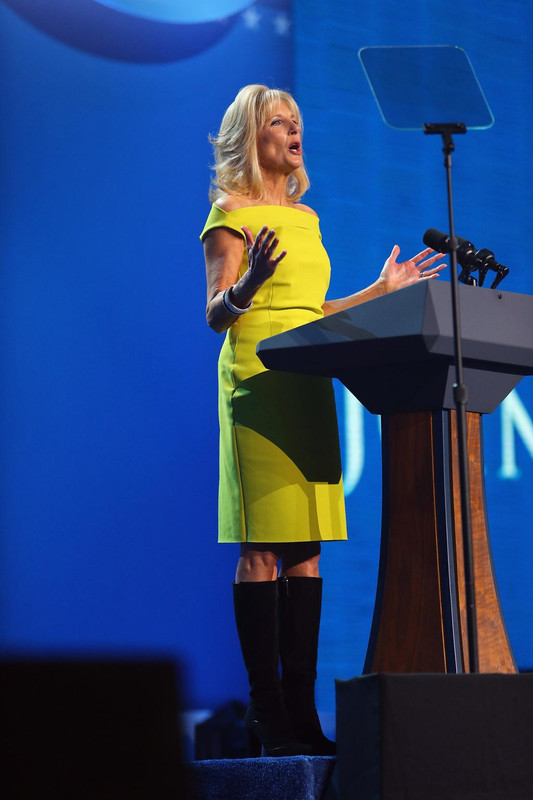 The next first lady paired the dress with fuchsia-hued heels with bows on them and a noir face mask.
As was pointed out by Glamour, the designer behind his eponymous label, Oscar de la Renta, had firm links to the first ladies of the White House prior to his passing in 2014, having dressed many of the White House's residents including style icon Jackie Kennedy, Michelle Obama, Nancy Reagan and Hillary Clinton.
Two additional noteworthy sartorial points during the 2020 campaign also involved florals.
During the final presidential debate in Nashville, Tennessee, Jill Biden stepped out with her husband wearing a pretty-as-a-picture Dolce & Gabbana dress with matching floral mask, and during a press conference, she wore a white dress with a blue and white floral mask.
The Dolce & Gabbana dress appears to be a favourite with Biden—not only did she wear it during the debate but also on another occasion during the campaign.
Biden also seems to favour tonal looks, presenting head-to-toe looks featuring coordinating hues and, like Jackie Kennedy, is a master when it comes to colour blocking.
Scroll on to see more of Jill Biden's best style moments.