Models at the Labrum London fashion week presentation at St Giles in the Fields. Photograph: James Veysey/Rex/Shutterstock
The puffer jacket is everywhere – but so, too, are dreams of summer holidays. There is awe for science and scientists – and gratitude for home comforts.
The first fully locked down London fashion week, which began on Friday, reveals a fashion industry transformed by the pandemic from being a world of escapism into one that tentatively sketches out what our new normal might look like.
Ninety-five designers including Alice Temperley, Simone Rocha, Molly Goddard and Erdem will show their collections digitally, as fashion faces its first season with digital catwalks only. Last September's fashion week coincided with a period of looser restrictions, and hosted catwalk shows and in-person appointments.
With this event coinciding with Monday's much-anticipated reveal of a roadmap out of lockdown, designers are hoping their new collections will resonate with consumers eager to look ahead to future freedoms.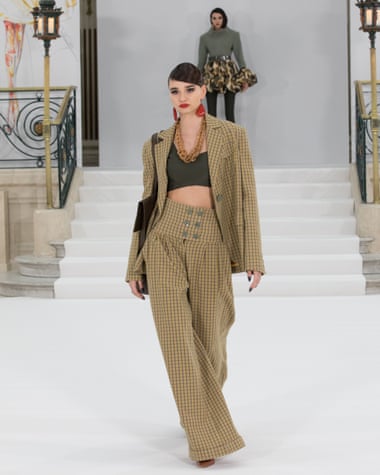 "I've got a feeling that when we come out of this we're all going to go a bit bananas," said Temperley, whose Glastonbury-inspired latest collection is called Rock Swagger. "We've been selling mostly daywear recently, obviously – knitwear, outerwear, denim, and blouses for Zoom. Our new collection is a mix of clothes we need now and clothes we will want when we get to go out and star in our own rock'n'roll movie."
"It has been nice to imagine that life will hopefully be a bit more normal by the time these clothes are in store," said designer Roksanda Ilinčić on a Zoom call from her London studio. To bring some glamour to a fashion week without shows, she has enlisted three generations of well-known women to star in a video of her collection filmed on an iPhone at their home during lockdown. Their identities are under wraps until Monday's online premiere.
"The last year has put a completely different perspective on fashion for me," she said. "I felt this season had to be about family and home and how precious the small things in life are." She has softened her tailoring, with dressing-gown style soft belts on oversized jackets. "It's a dressed up version of what we wear at home, but still cosy. We might want to look a bit smarter but we will still want to be comfortable."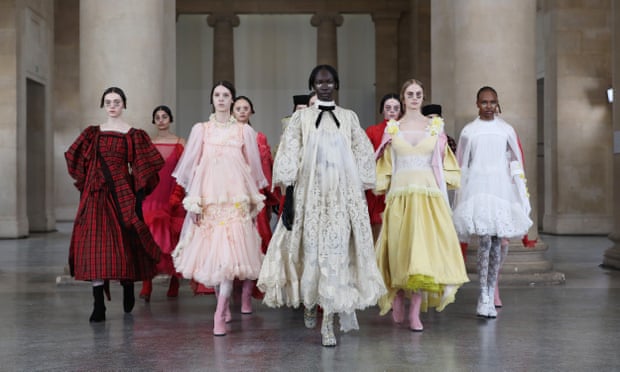 The fashion world has been brought down to earth. "I think we've come to understand how to live better at home," says Emilia Wickstead, whose clothes are a favourite of the Duchess of Cambridge. "To cook a lovely meal rather than getting home late from work and being in a rush all the time. I think we will entertain the idea of dressing up at home more than we did before."