If you weren't quite sure how integral fashion is to the world of Queen Charlotte: A Bridgerton Story, just remember that in the very first scene of the Bridgerton prequel series, in the very first episode of the show, the very first exchange is centered around women's clothing.
"I am wearing Lyonnaise silk encrusted with Indian sapphires with an overlay of 200-year-old lace," young Charlotte, played by India Amarteifio, says to her brother, Adolphus (Tunji Kasim), to make a point as to her disenchanted disposition at a nearly six-hour carriage journey to meet her arranged, soon-to-be husband, England's King George. And let's not forget the whalebone — "Whales died so I could look like this!"
Fashion — and with it, hair and makeup — has never played second fiddle in the world of Bridgerton. And nor does it in Queen Charlotte: A Bridgerton Story, a limited, six-episode series now streaming on Netflix and created by Shonda Rhimes and directed by Tom Verica about the rise of Queen Charlotte amidst a foreign land. Fashion, hair, and makeup have been as important to the story as the music, the production design, and the character development because without every piece of fabric, hair tendril, or beauty mark in place, the luscious fantasy world that is the Bridgerverse might be lost.
It is with that level of dedication and detail that Queen Charlotte costume designer Lyn Paolo and hair and makeup designer Nic Collins took all their in-depth research and knowledge of London's Georgian era and deftly interpreted it for Rhimes' original reimagining of the love story between young Queen Charlotte and young King George III.
Collins, known for her work on Downton Abbey and 2022's PBS Masterpiece limited series Victoria, says that working on a show like Queen Charlotte is like opening a box of chocolates: "You have all these different flavors in there, but it's up to you what you take out of that box."
Paolo, who has been in the Shondaland family for many years, with her wardrobes adorning the casts of Scandal, How to Get Away With Murder, and Inventing Anna, describes the show's look as a modernized interpretation of Georgian-era aristocracy. Her go-to reference was Cecil Beaton's 1948 photograph of models in British American designer Charles James' gowns. Beaton was a British fashion, war, and portrait photographer, as well as an Oscar-winning costume designer, among other talents, and Paolo sought to re-create the feeling of that image for the overall aesthetic of Queen Charlotte.
"I am madly in love with Charles James and his designs. I used that [photo] as my template for what our look was going to be, and from there, I went to impressionist paintings for the [color] palette," Paolo says.
Neither Paolo nor Collins was looking to do an exact reproduction of Georgian-era fashion, given that Rhimes' ethos has always been to build a fantasy world around factual history within the Bridgerverse. "We wanted to make things more youthful and more appealing to the modern eye," says Paolo. "I think that's the thing that Ellen Mirojnick did so well in the first season of Bridgerton [when] she translated the Regency look into a vibrant, modern feeling."
Here, we break down five Queen Charlotte characters and their looks, with detailed descriptions and explanations from Paolo and Collins of how they created and crafted what we see on our screens.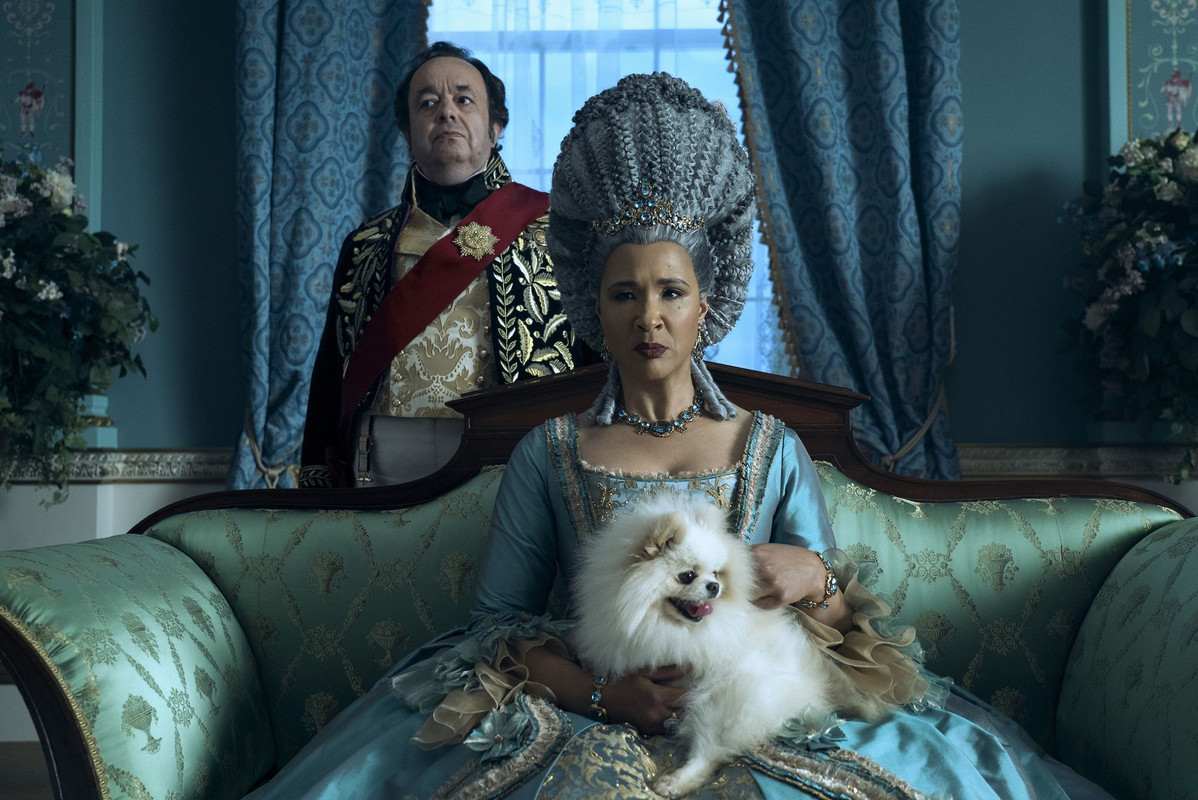 Queen Charlotte, played by Golda Rosheuvel
One of the main aspects of Queen Charlotte's costumes in both this show and the Bridgerton series is that she remains in the Georgian silhouette throughout: restricting corsets, wide skirts, cinched waists, three-quarter-length sleeves, massive wigs. Paolo wanted to explore the origins of that decision in her designs.
"It wasn't something that was just made up for the first season of Bridgerton," says Paolo. "Queen Charlotte, like many older women [of the time], stayed in the silhouette that was the silhouette of her youth. So, obviously that had to be a through line because it was established in Bridgerton."
Beyond Queen Charlotte and Princess Augusta (more on her below), though, Co-Costume Designer Laura Frecon and Paolo decided to edge away from that super-stuffy brocade and heavy fabric look. For young Queen Charlotte, they went for a more modern interpretation by changing out the fabric's weight, cut, and construction. But for Rosheuvel's dresses, they sourced fabric from places like Vanners Silk, a nearly 300-year-old weaving company in England specializing in more traditional and heavier silk.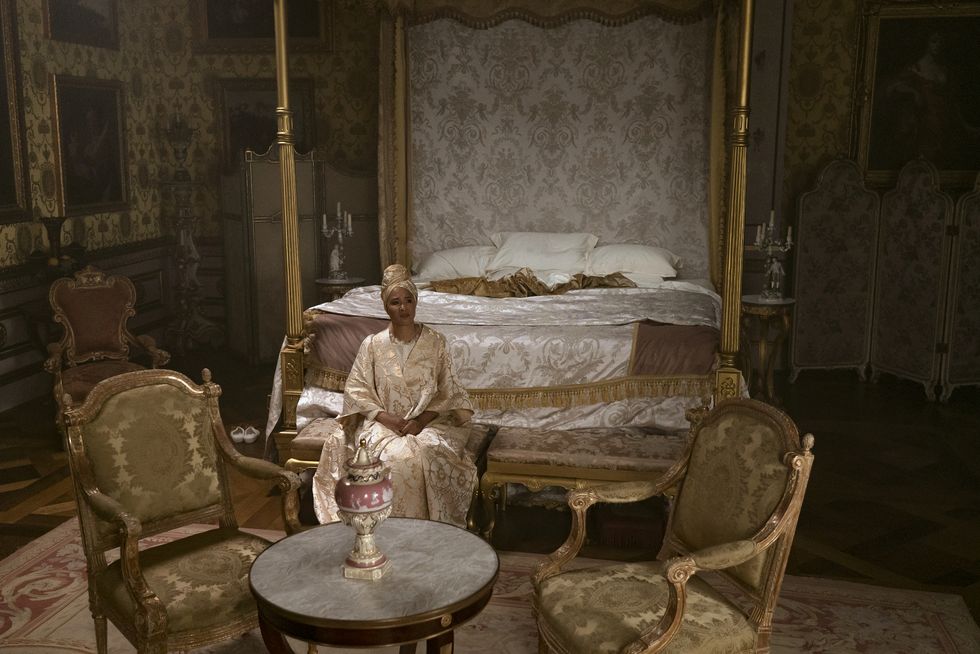 Paolo leaned into the sadness of Queen Charlotte's life for her costumes, which Paolo felt were more poignant in this show than in Bridgerton. She points to the fact that the story starts with the queen in mourning — after a quick scene of her in a night turban, which Paolo loved adding to what could have been a plain nighttime look. "We see her in black," says Paolo, "which we've never done on the show. No one ever wears dark colors in the Bridgerton world."
There was a great deal of research done about mourning jewelry, and Paolo's team re-created it all for the Princess Royal's funeral scenes.
"Georgians were fascinated by death," she says, "and they would weave their [loved one's] hair into a brooch, or into a pair of earrings, or a necklace, and even rings."
For Charlotte's hair, Collins created an arc to show how the queen would eventually get to the enormous and intricate wigs she's so well known for. In doing so, Collins decided that young Charlotte would have had her natural hair upon coming to court, but that it would grow throughout the story, getting more elaborate in height and shape at each ball. It was also important to Collins to always have young Queen Charlotte in her natural hair color — in fact, that was across the board for all the cast, to stay with their natural hair color. By the time we reach Rosheuvel's Queen Charlotte, however, Collins created a palette of silvers and grays.
"Each wig is a story," says Collins, "and each story shows us where she is in that journey, and each one flows into the next one. We set off with the knowledge [of what we wanted those wigs to be], but those wigs definitely evolved as we created each one because each one spins into another. So, if we used one texture in one, we maybe would take a little bit of that and place it into the next one, and then add something more or different [to help it evolve]."
To illustrate this point, Collins points to a Queen Charlotte wig in season one of Bridgerton that had white bows and diamonds on it. As an homage, she created a wig entirely of bows — the Georgians loved bows, so it made sense — and then reused that concept with a line of bows down the back of a few of the queen's other wigs. They even placed some bows on one of young Queen Charlotte's ball wigs.
"We were always kind of merging the two queens' wig texture, shape, and style," says Collins. "And if you're a really keen viewer, you'll be able to see the story represented in her wigs."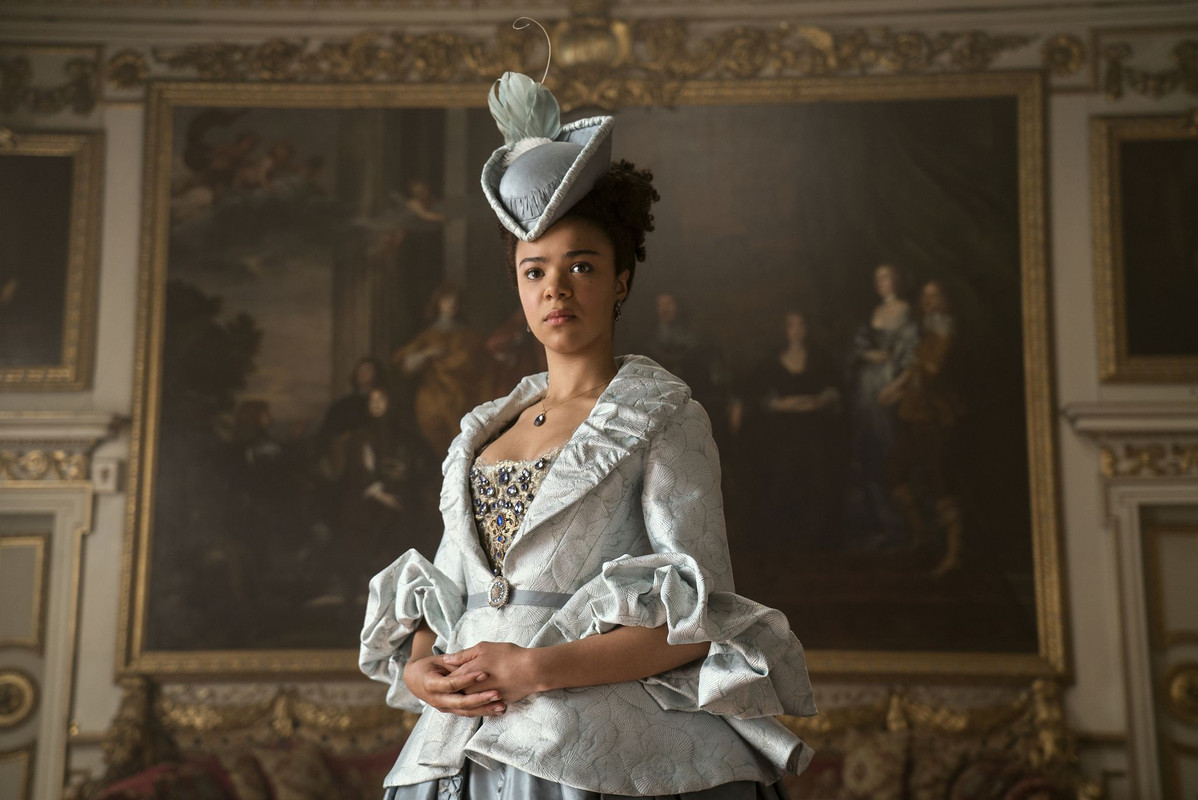 Young Queen Charlotte, played by India Amarteifio
When Collins came on board, she was shown an illustration by Paolo of the young Queen Charlotte in her wedding dress with a big, beautiful Afro, and immediately Collins knew what they were all going for.
"I valued her as a designer," says Collins of Paolo. "I loved her input, and she really helped steer us in the right direction. It was so important to get that textured hair in the portraits, in the photography, in the style; we wanted the Afro, and we also wanted to incorporate something of the period as well to try and merge the two together. So, I looked at portraits of Queen Charlotte, and one of my favorites shows her hair slightly more oval shaped than we had it, but you can see the texture. To make our Afro [which you see in the key art, as well as other scenes in the show], we set the hair in a wooden dowel to create beautifully coiled spirals dressed away from the forehead, the ends finished into a glorious front panel, which the tiara sits upon."
Paolo credits her "stunningly talented" milliner, Jen Lewis, and her jeweler, Stephen Rogers, who worked together to create the tremble tiara.
Two of the biggest changes to young Charlotte's costumes compared to her older counterpart were to update the fabric of her gowns using shot-silk taffeta — which gives off an iridescent appearance thanks to the weaving together of two different colors — and to not include rigid corsetry. Both were done to allow more freedom of movement, to show her youthfulness, and to illustrate a distinct difference between her life and that of her older self and her ladies in waiting. The young version of Charlotte walks briskly throughout the palaces, she has energetic love scenes, she dances at balls, she crawls under beds — a rigid corset would get in the way of all that. Paolo wanted Amarteifio to be more free-spirited than Charlotte's older self, who was literally and figuratively weighed down by the tragedy of her love life.
"That's a huge decision in terms of the costumes because it changes the silhouette ever so slightly," says Paolo. "Underpinnings, or corsetry, can change the shape of the body — imagine modern Spanx. They can also limit motion. For young Charlotte, we added elastic panels in her corsets so she could move more freely. We also used small panniers [side hoops] for this character, and that hooped structure ensured that Charlotte's costumes were not overly wide."
Paolo credits Kasia Chojnowska, the key costume cutter for young Charlotte, with understanding that the character's gowns were to be full of life, not weighed down. To this end, most of Charlotte's gowns were made with silk taffetas and lined with organza. Only the bodices had weight, as they were usually encrusted with beading, stones, or gold work. They sourced these embellishments from places like B&J Fabrics in New York and Mood Fabrics in Los Angeles, and Paolo tips her hat to the embellishers Beth Parry and Hattie McGill and machine embroiderer Twan Lentjes, who worked tirelessly, in her words, to create custom elements for all the gowns.
"The more mature Charlotte gets, the more structured her clothing gets," says Paolo. "And you can see that very clearly in how Golda stands in her costumes. Juxtaposing the two worlds has been the most fascinating thing for me. We always wanted the audience to understand that this is the same person, and that was part of my job, to layer them in that way."
The only gowns that they did not design to float for Charlotte were the gowns for the wedding and the coronation. These gowns were for state occasions and were created out of duchess satin to help tell the story of the role of monarchy and the pressure and heaviness of joining the royal family. As Rhimes' script goes, Charlotte is at first told by Princess Augusta to wear a gown that was not too fussy for "our family," and to execute the words, Paolo went for duchess satins in champagne tones, not white.
[Source: shondaland]