We will take Eddie's credit card after we beat Portugal to buy some kava for our team function.
This was the Fiji Water Flying Fijians Assistant Coach Brad Harris' reply to Wallabies' Head Coach Eddie Jones following his 'kava' comments he made about what his team would be doing on their week off.
Jones earlier suggested that he and his team – who face a likely Rugby World Cup exit after completing all the games – would take some kava to the Flying Fijians camp in their week off, presumably in an attempt to put the Flying Fijians off their game against Portugal.
Jones says he is thinking of giving Fijian-born Wallabies wingers Marika Koroibete and Suliasi Vunivalu his credit cards and getting them to go to the Fijian camp with some kava which might work.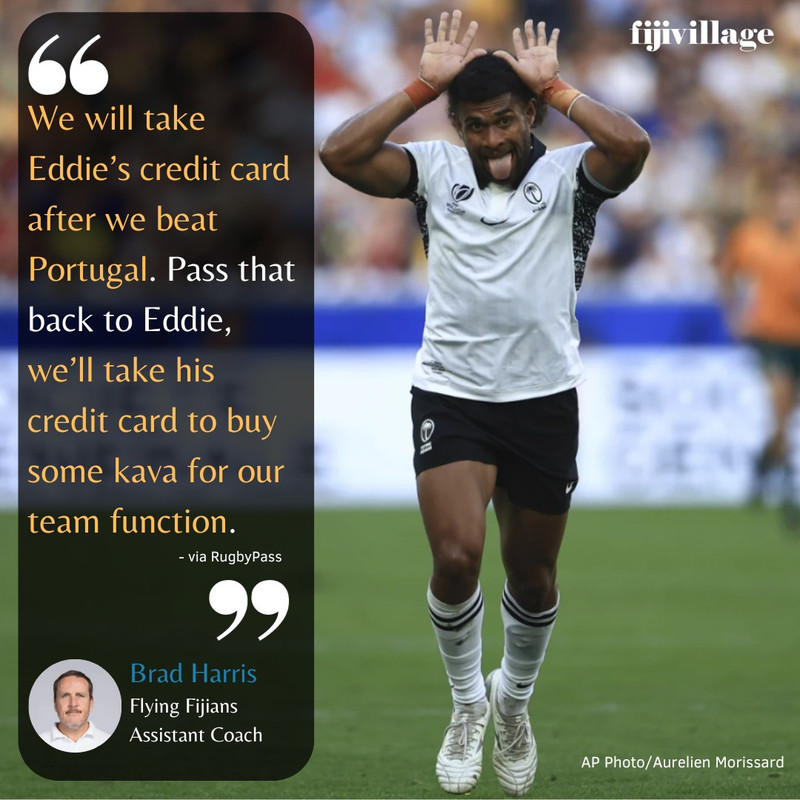 Joking aside, the Flying Fijians are not taking the Portuguese lightly as they are one of the Rugby World Cup's surprise packages.
Harris says the team has another tough battle ahead of them.
He says Wales had to fight hard to get a win against Portugal and it was pretty similar to Australia, they managed to get their points when Portugal had a player in the sin bin.
He adds the Portuguese set piece was functioning well and they certainly moved the ball around in attack and caused some problems for large parts of those two games.
Harris says the Flying Fijians have had a pretty good look at the game against Georgia and it was a tough battle.
He says there were certain parts of their game they weren't happy with so they have identified that and had some really good discussions and are looking to iron that out over the next couple of days and improve for Portugal.
The Flying Fijians play Portugal in their final pool match at 7am next Monday.
Fiji will only need 1 point from this game to make the quarter finals.
In other games coming up this week, New Zealand will play Uruguay at 7am Friday while France face Italy at 7am Saturday. You can check out all the Rugby World Cup stories, interviews, photos, videos and schedules on our website, fijivillage.