Why so slow on solar power
its term, discussion has been hot on several topics around the Yellow Bucket.
As usual, no shortage of drama with the Grace Road deportations, the Ebay scam, the Bainimarama/ Qiliho court case and of course never-ending opinion on "our boys" in France.
We want to discuss something that may lack the "drama" of the above but that doesn't diminish the importance of the topic, EFL and electricity.
Recently there was an apparently robust conversation on this subject at the Australia – Fiji Business council "soqo" in Sydney. The presentation by longtime EFL CEO Hasmukh Patel apparently provoked debate As we swing into the second half of 2023 and the Coalition Government passes the 6-month mark of and comment, particularly on the stalling of investment in the renewable generation of power. One would have thought that as a self-promoted leader of climate change, the Bainimarama Government would have led the charge on this but as has become depressingly common, a closer look at the REAL numbers say….. not really!!
In fact, in the area of solar and wind where we should have expected growth, considering the technological advances over the last ten years, output has dropped from 5,348 mwh in 2013 to just 93 mwh in 2022!! Oh, and by the way these numbers look particularly pathetic when you consider total electricity output is just over ONE MILLION mwh.
The growth, would you believe, has largely been in diesel generation with rumours that another surge of investment in leased diesel generators is currently underway. All of this is particularly bizarre when you consider the cost of diesel generation v solar. Based on some "back of the envelope" calculations, provided by a local expert, diesel power currently costs EFL around 51 cents per unit. This compares with cost of solar power, numbers coming out of Hawaii that shares many market and climate similarities with Fiji, of about 18 cents AND that money doesn't disappear offshore impacting on our foreign reserves!!!.
Now consider EFL commercial consumers pay 41 cents per unit and domestic 34 cents and you can see why Mr Patel is currently lobbying for a tariff increase!!
The real mystery is, why so slow on solar power. One would have thought that encouraging domestic generation of solar power on individual roof tops would not only cut costs but also take pressure off the grid and increase resilience by spreading generation load across numerous individual suppliers. In addition, YB hears from numerous sources that there is no shortage of investment interest in large scale solar farms that for various reasons isn't getting anywhere, forcing frustrated funders to seek projects in neighbouring Pacific Island countries.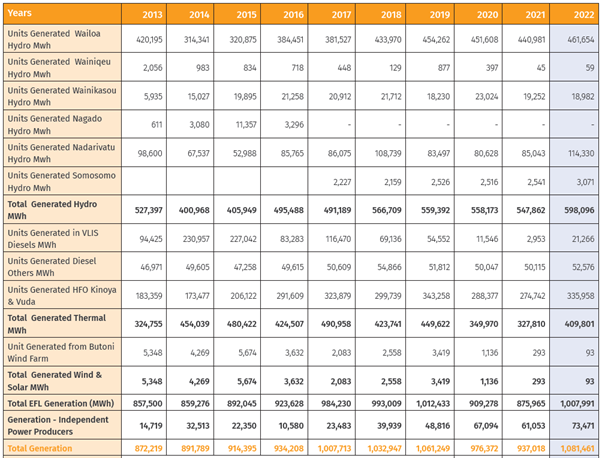 In fairness EFL Annual Reports have been talking, for some time, about various solar projects that according to our calculations could add about 25 mw to the grid but some of them have been in the planning stage for quite a while with the earliest due for completion in 2024.
Solar seems an obvious fix, but it needs commitment and support from both Government and EFL.
YB understands no problem with the former, but the latter appears to be struggling with the idea of surrendering parts of their empire. An indication of this is EFL's very strange submission to the FCCC seeking a 32% increase in tariffs so they can invest in boosting power infrastructure. EFL claims that this must be raised from the consumer, because there is apparently no interest from the private sector in transmission and distribution systems. This seems a little hard to believe considering investment levels from the private institutional sector in similar systems all over the world. What it does suggest is an absence of new ideas and fresh thinking at the top of EFL.
This was reinforced by a second reason given for the tariff increase, the advent of rooftop solar in Fiji.
To quote their submission as highlighted in the media "What we have experienced is that most of the customers treat EFL as their natural backup 24/7.Should all these customers go on this model and put-up roof top solar then the EFL power system can become redundant one day".
WELL, HELLO!!!! If EFL insists on diesel generation at an inflated price, then of course the market will move to cheaper individual solar generation plants for homes and offices and YES you will become redundant!!
They go on to make the claim that solar is only for the wealthy. Once again HELLO have you ever driven past the numerous villages and rural communities generating power off low cost, easy to install solar systems.
EFL does have a point about customers using the grid solely for back up. If that happens, a reasonable maintenance fee is fair enough. However, surely this doesn't take into account the benefit of having solar customers selling power back to the grid, at no capital cost to EFL and vastly improving resilience spreading generation across a multitude of roof top power providers.
Oh and by the way In summary, YB is hoping for intense debate around the submissions to FCCC as we desperately need some fresh thinking on this subject.
Don't despair YB hears whispers of change underway at the EFL board level that hopefully will increase the level of urgency on the issue of solar and renewable power and perhaps some generational change at other levels of leadership within Energy Fiji Ltd…… watch this space!