Thousands of people in the Lami-Suva-Nausori areas will continue to receive only 6 hours of water supply in a day as the impact of the dry weather conditions continues to affect the Water Authority of Fiji's water treatment production.
WAF says the rainfall event over the weekend provided temporary relief at the Waimanu River and Savura Creek however continuous gauging after the event has indicated a steady decline in flow to what the level was prior to the rain event over the weekend.
WAF Chief Operating Officer, Seru Soderberg says the rainfall event recorded in Suva and Nausori was not sufficient to replenish the raw water source and underground aquifers that supply water into the Waimanu River and Savura Creek.
Soderberg says as a direct result of the reduced receding flow and levels at the raw water sources, water supply production is being impacted as well thus affecting service delivery to people.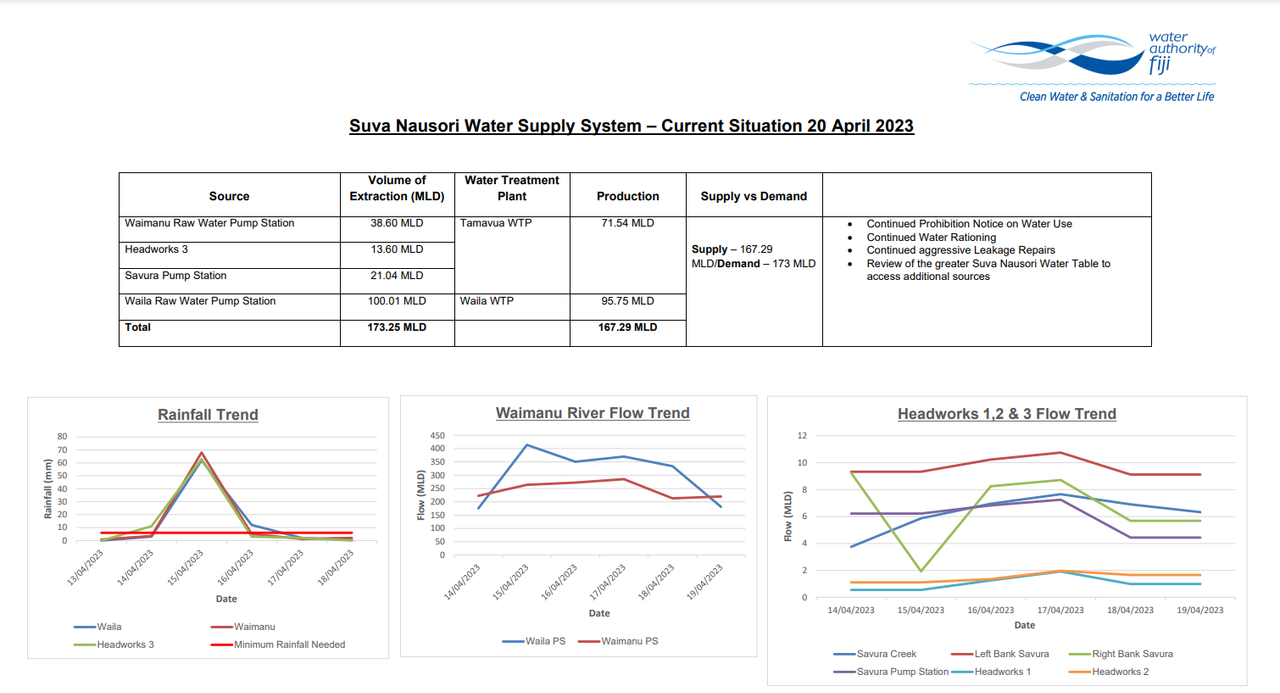 Valve operations will be carried out to maintain reservoir levels and people will experience no water supply from 10am to 4am the next morning, daily.
The Authority says water supply will normalise from 4am to 10am, six hours daily, and this is to allow people to store sufficient amounts of water to sustain them until supply is restored.
It says the water rationing exercise will continue until such time when the dry weather condition ends.
The areas affected are Wrong Turn, Sakoca, Upper Khalsa, Tacirua Heights, and Nagatugatu residents next to the Reservoir, Tamavua Koro, Upper Ragg, Deovji Street, Tacirua Bus, Amputch Street, Princes Road, Seventh Day Church Dokanaisuva to Tacirua Fijian School, Vunuleba Settlement, Naisogo, Colo-i-Suva Crest Chicken, Princes Road, Marshall Road, Taqairua, Vunikawai, Uluibeka, Colanaivau, Valesasa, Naitaqiri Nillgrey.
The water restrictions are still in place.
Please avoid water usage for car washing, watering of plants and gardens, irrigation of new turf, topping up of swimming pools, and washing of hard surfaces like driveways and footpaths.