The centre of TC Ana is currently between the coast of Suva and Navua as it continues to move towards Kadavu.

Acting Director for the Nadi Weather Office, Terry Atalifo says people can still expect heavy rain, damaging to destructive winds and flooding for today and tomorrow.
The centre of TC Ana was located 70km North-Northwest of Suva this morning.
It is moving South-Southeast at about 13km per hour.
We have been receiving reports of heavy flooding in many areas in Viti Levu and Vanua Levu. Many people have also been experiencing strong to damaging and then to destructive winds which has even brought down trees, power poles and weak structures.
Please stay safe and stay with us for updates.
The Category 2 destructive winds being experienced will continue for the most part of later today as the system has moved slowly from last night to today bringing torrential rain, damaging to destructive winds.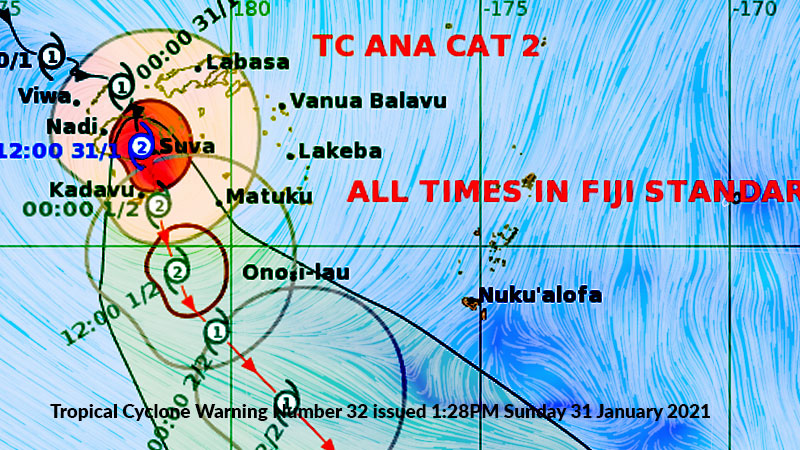 If you are living in Viti Levu, Northern parts of Vanua Levu which include areas from Labasa, Seaqaqa and Savusavu, Kadavu, Beqa, Lomaiviti Group and Moala, there is a storm warning in place for you which means you will face destructive winds that has the potential to cause significant damage to trees, damage weak structures and houses and heavy damage to crops, disrupt electrical power distribution and communication services.
The Weather Office says the wind is expected to intensify as the system continues to move over Viti Levu today.
The whole of Fiji will continue to experience damaging winds.
You will experience damaging winds a few hours before and after the centre of Cyclone Ana passes overhead or nearby.
A tropical cyclone warning remains in place for Fiji.
TC Ana was located about 70 kilometres North North West of Suva.
The Nadi Weather Office says people can expect winds of up to 95 kilometres per hour with momentary gusts of up to 130 kilometres per hour.
There is also a heavy rain warning for the whole of Fiji.
There is an increased risk of landslides, flash flooding of low lying areas and flooding of streams and rivers as the ground is already saturated.
A flash flood warning remains in force for all low lying areas and small streams near major rivers of Viti Levu and Vanua Levu.
Stay safe and do not go outdoors.
You can also contact Police on 917, the National Fire Authority on 910, Energy Fiji Limited on 913, Water Authority on 5777 and FRA on 5720.
---
Schools closed until further noticeBy Shanil Singh
Sunday 31/01/2021
Minister for Education Rosy Akbar
All students, teachers and staff are to stay at home as schools will remain closed until further notice.
This has been confirmed by the Minister for Education Rosy Akbar who says they will advise the public through a media announcement when schools will reopen as many schools are currently being used as Evacuation Centres.
---
---
7, 612 people in evacuation centresBy Shanil Singh
Sunday 31/01/2021
Police assist with evacuations. Photo: Fiji Police Force
There are 7,612 people are currently taking shelter in 204 evacuation centres around the country.

The National Disaster Management Office says 4,553 people are currently in 105 evacuation centres in the Northern Division.
2,530 people are currently in 75 evacuation centres in the Western Division.
189 people are in 16 evacuation centres in the Central Division while 340 people are in 8 evacuation centres in the Eastern Division.
---