---
Stay away from incomplete WG Friendship Plaza on McGregor Road
Stay away from incomplete WG Friendship Plaza on McGregor Road
WG Plaza
Please stay away from the incomplete WG Friendship Plaza on McGregor Road in Suva.

Fijivillage has received reports that metal and aluminum pipes are flying off the building and landing on the road and neighbouring properties.
We are advising you to stay away from the area.
A WG Friendship spokesperson says they had secured the building area but they do not know what is flying from the building. He says their workers are now at the site to check the situation.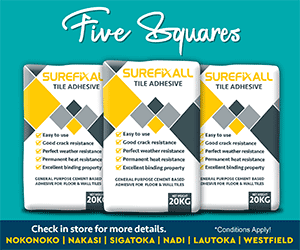 Stay tuned for the latest news on our radio stations