---
Scott Morrison concedes defeat in Australian Election
Anthony Albanese and his opposition Labor Party win the government
Scott Morrison concedes defeat in Australian Election
Anthony Albanese and his opposition Labor Party win the government
Anthony Albanese, center, the Labor leader, with his partner, Jodie Haydon, and his son, Nathan Albanese, celebrating in Sydney on Saturday.[Photo:NYTimes/James D. Morgan/Getty Images]
Anthony Albanese and his opposition Labor Party have ended nine years of conservative government in Australia, as Prime Minister Scott Morrison conceded defeat of the coalition he led.
A handful of races were still too close to call, but early results showed Labor winning at least 72 seats of the 76 needed to form a government.
Alliances with independent and minor-party victors would give it a majority if it does not reach 76 seats by itself.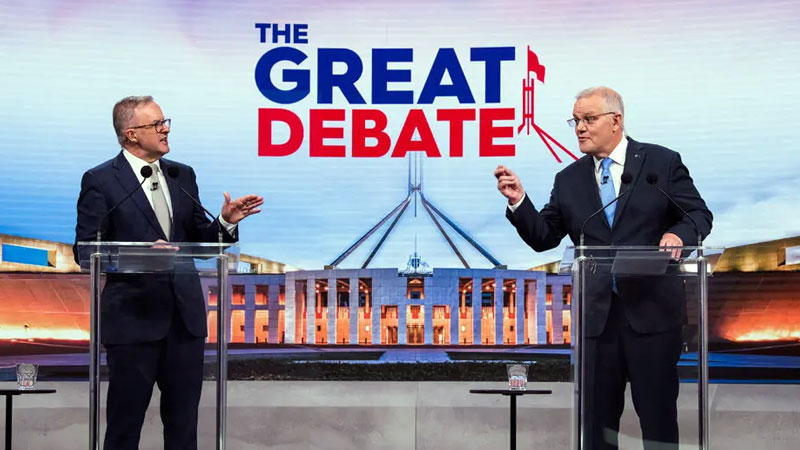 Anthony Albanese, the Labor leader, and Prime Minister Scott Morrison during a debate.[Photo:NYTimes/Pool photo by James Brickwood]
Albanese says the Australian people have voted for change.
He says it says a lot about their great country that the son of a single mom who was a disability pensioner, who grew up in public housing down the road in Camperdown, can become Australia's Prime Minister.
Polls taken just before Election Day showed that neither candidates had approval ratings over 50 percent. But in the end, Albanese, who has spent his entire career in Labor Party politics, including 23 years in Parliament, managed to persuade voters that it was time for Labor and its promise of "a better future."
Source: New York Times
---
---
Latest Videos
Stay tuned for the latest news on our radio stations