SPCA will stage it's first 1000 paws walk for all dogs owned and unowned on 4th October from 10am to 2pm from the Suva Civic Centre to Albert Park.
Clinic and Shelter Manager, Shaneel Narayan says the funds raised from the registration will be used for shelter animals and it is also a community partnership to look after stray animals in different areas.
Narayan says the event is in memory of a lifelong member, Tim Howick-Smith who loved stray and shelter animals.
He says Tim was a passionate campaigner for street dogs and he and his partner Ulamila, took in dozens of dogs over the years.
Narayan says as a life member and SPCA volunteer, Tim regularly walked shelter dogs to help them socialise.
He says the event will include food stalls and pet shows.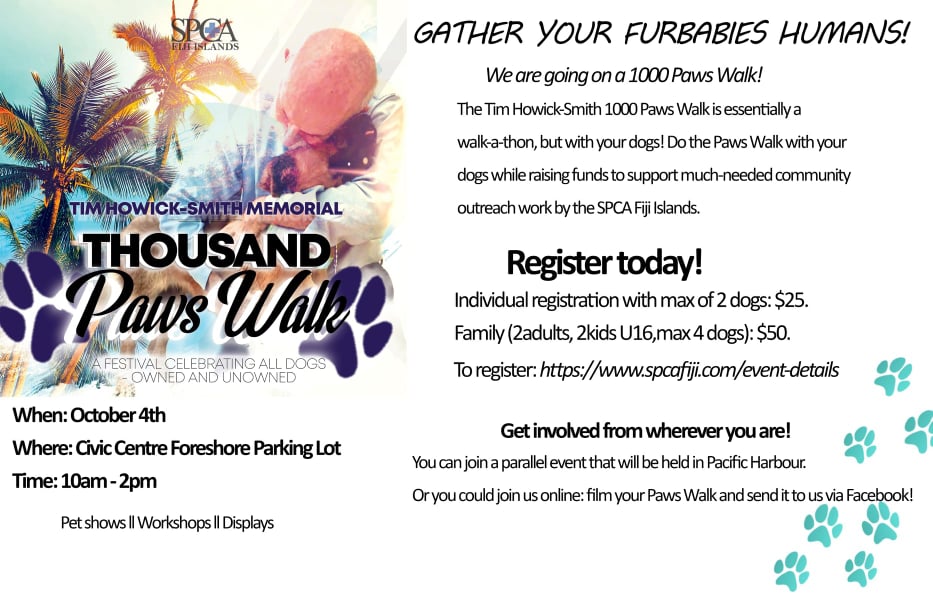 Narayan says due to the strong support from Pacific Harbour a parallel activity will be held there but the venue is yet to be confirmed.
He says registered participants can also take part virtually and upload the video on SPCA's Facebook page.
He says the event is coordinated by SPCA Executive committee member, Amanda Millar with 30 volunteers.
SPCA clinic team will be available to answer any questions.
The registration fees for an individual with a maximum of 2 dogs is $25 and and a family consisting of 2 adults and 2 children under the age of 16 years with a maximum of 4 dogs is $50.
People can register and pay at SPCA Walu Bay Clinic for now.
You can contact SPCA on 9980023 or email spcafijireception@gmail.com if you want to help the shelter and stray animals.
Any form of donation can also be dropped off at SPCA Walu Bay.