We want them to continue to Run On Run Strong because the storms won't last too long, no matter what they go through.

This was the message from Walk On Walk Strong Co-Founder, Sina Kami to the Fiji Water Flying Fijians in an interview with fijivillage News after their 22-15 victory over Australia at the Rugby World Cup this morning.
Kami's late daughter, Tae had composed and sung the song Walk On Walk Strong to give hope and strength when people are going through troubled times.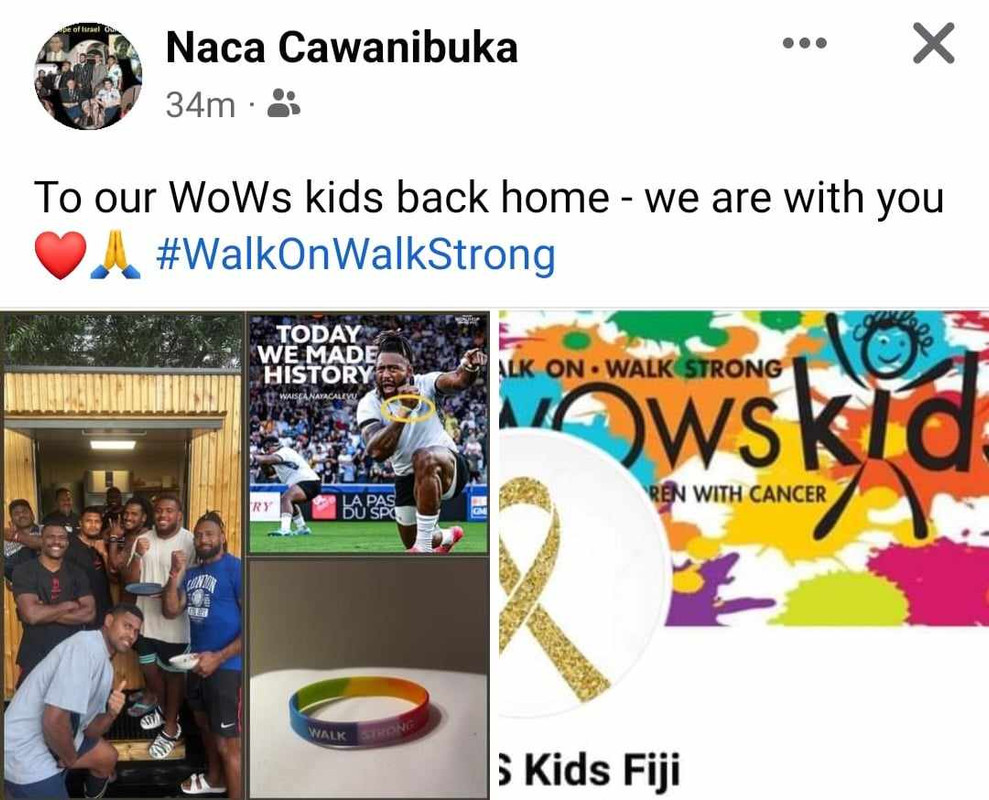 Several Flying Fijian players were spotted wearing the WOWS Kids Fiji wristbands during the game against Australia including skipper Waisea Nayacalevu, Mesake Doge and Childhood Cancer Advocate Tevita Ikanivere.
Kami says that the message from WOWS Kids Fiji and the children fighting cancer is that they are supporting the Flying Fijians with their prayers, and the message carries on to Walk On Walk Strong.
The WOWS Co-Founder says Tevita Ikanivere had visited their research centre and met with their team leader, and that was how the message got out to the team, especially with Swire Shipping Fijian Drua Strength and Conditioning coach Naca Cawanibuka who was drafted into the Flying Fijians setup.

She says the team was asking Ikanivere about why he was wearing the wristband and the message behind it, which is why she was surprised when Fiji Rugby announced their support for WOWS Kids Fiji.
Kami says for the Flying Fijians to carry the message of Walk On Walk Strong says it all.

Fiji Rugby Special Administrator, Simione Valenitabua says the response to the Fiji Rugby Cardio Challenge in association with WOWS Kids Fiji has been fantastic.
The team from Rugby House has been going out to the recent Vanua Challenge games and you can catch the team collecting donations at the INKK Farebrother Challenge between Nadroga and Suva at 3pm this Saturday at Lawaqa Park, Sigatoka.