Leaders of the four political parties that have made it to parliament. From left to right: NFP Leader, Biman Prasad, People's Alliance Leader, Sitiveni Rabuka, SODELPA Leader, Viliame Gavoka and FijiFirst Leader, Voreqe Bainimarama
 The final results of the 2022 general elections is out with no party securing more than 50 percent of the votes to form the next government, which means Fiji will have a coalition government for the next 4 years.
The FijiFirst Party finished with 200,246 votes after the completion of the count for all the 2071 polling stations.
This is 42.55 percent of the votes counted.
The People's Alliance is in second place with 168,581 votes which is 35.82 percent of the votes.
National Federation Party is in third place with 41,830 votes which is 8.89 percent of the votes counted.
SODELPA has 24,172 votes which is 5.14 percent of the votes counted.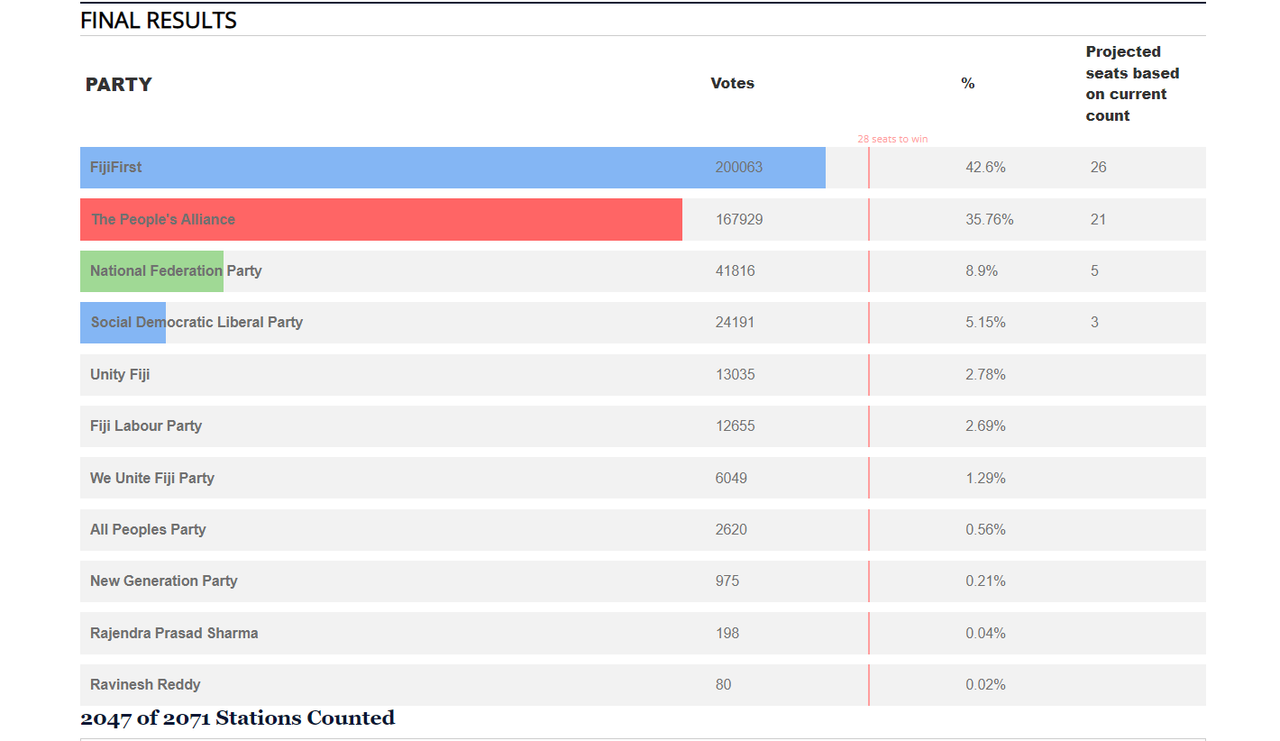 Unity Fiji has 13,100 votes, Fiji Labour Party has 12,704 votes, We Unite Fiji has 6,070 votes, All People's Party 2,638 votes and New Generation Party has 964 votes.
Independent candidates Rajendra Sharma and Ravinesh Reddy have 198 and 81 votes respectively.
A party can form government if they win 28 seats or more.
Under the electoral system, the parties that qualify to be in parliament need to receive 5 percent of the total votes in the elections.
Based on the final count and the percentage of votes received - the projected seats for the FijiFirst is 26, People's Alliance 21, National Federation Party 5 and SODELPA 3.
We are awaiting the handing over of the final results at 4pm today.
We are also monitoring the negotiation talks between the parties.
SODELPA had a meeting with the FijiFirst Party earlier today and they are expected to meet with the People's Alliance later today.
-->