Fiji National Provident Fund members, pensioners and employers have been given an opportunity to raise their concerns or issues pertaining to their retirement savings or pensions during their Annual Member Forum which starts from tomorrow.
FNPF CEO Viliame Vodonaivalu says the Forum is the Fund's biggest annual event and will allow their key stakeholders to question them about activities within the financial year and what they have found in past years.
The CEO says this has always been a time for their key stakeholders to engage directly with the management team as well as the FNPF Board regarding the Fund's performance and outlook for the future.
Vodonaivalu says a member forum is a legislated event that the Fund must conduct every financial year and a key part of it is the presentation of the annual report which outlines their operations, achievements and plans.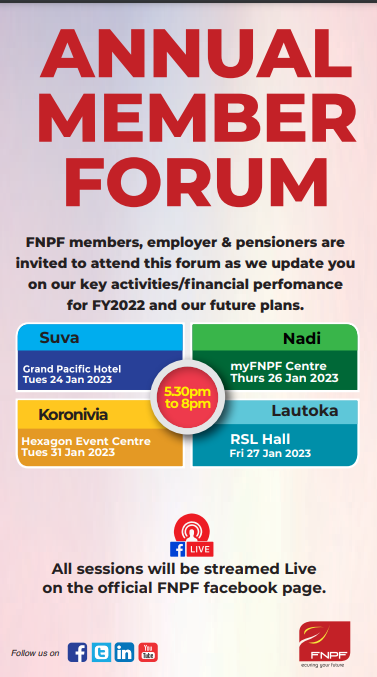 He says they welcome the scrutiny because they believe that their performance is a reflection of their decisions, which ultimately have benefited their stakeholders.
He adds a retirement expo will coincide with the Forum in Naqara, Taveuni.
Vodonaivalu says the Fund will also consider Forum venues at locations apart from the seven identified in the Central, Western and Northern Divisions to ensure retirement savings inclusiveness for all Fijians, with a focus on voluntary savings for those in the informal sector.
The Forum will get underway this week starting at the Grand Pacific Hotel in Suva on Tuesday.
It will be in Nadi and Lautoka on Thursday and Friday respectively followed by Koronivia on Tuesday, 31st of this month.
The Forums in the North will start on Friday 10th February in Savusavu, Saturday 11th February in Labasa and ends in Taveuni on 16th February.