You should continue to expect damaging to destructive winds if you live in Viti Levu, Northern Vanua Levu and Kadavu although the centre of Cyclone Ana has passed Viti Levu and is currently between the waters of Kadavu and Viti Levu.
If you live in Viti Levu and Vanua Levu, the winds you can expect to continue to experience tonight and tomorrow is the direct effects from the second part of Cyclone Ana.
The Acting Director of the Nadi Weather Office, Terry Atalifo says the warnings remain the same and people can still expect heavy rain, damaging to destructive winds and flooding for tonight and tomorrow.
The centre of TC Ana is located about 30 kilometres North North-East of Kadavu.
Cyclone Ana is moving slowly at 11 kilometres per hour.
We are receiving reports that Kadavu is already feeling the effects of TC Ana.
There has also been heavy flooding in many areas in Viti Levu and Vanua Levu.
Many people have also been experiencing strong to damaging and then to destructive winds which has even brought down trees, power poles and weak structures.
The Nadi Weather Office says you should continue to expect heavy rain at times and this will continue to cause more flash flooding along roads, villages, towns and communities near streams, rivers and low lying areas.
If you live near the coastal areas continue to expect sea flooding and possible coastal inundation especially during high tide.
High tide is at 8 o'clock tonight.
The Nadi Weather Office says there is still a flood warning and flash flood warning is force for all low lying areas close to small streams and major rivers in Fiji.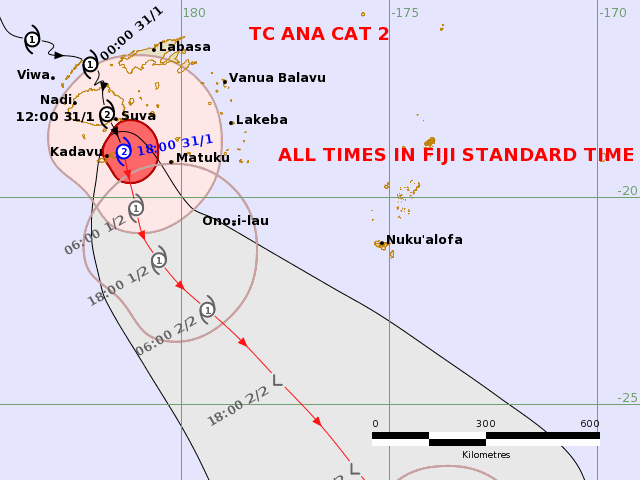 TC Ana Track Map. issued at 7pm. 31/01/2021
Please stay safe and stay with us for updates.
The Category 2 destructive winds being experienced will continue for the most part of tonight as the system has moved slowly from last night to today bringing torrential rain, damaging to destructive winds.
If you are living in Viti Levu, Northern parts of Vanua Levu which include areas from Labasa, Seaqaqa and Savusavu, Kadavu, Beqa, Lomaiviti Group and Moala, there is a storm warning in place for you which means you will face destructive winds that has the potential to cause significant damage to trees, damage weak structures and houses and heavy damage to crops, disrupt electrical power distribution and communication services.
The whole of Fiji will continue to experience damaging winds.
You will experience damaging winds a few hours before and after the centre of Cyclone Ana passes overhead or nearby.
A tropical cyclone warning remains in place for Fiji.
The Nadi Weather Office says people can expect winds of up to 95 kilometres per hour with momentary gusts of up to 130 kilometres per hour.