Concerns are now being raised on some fake facebook pages being created.
The University of the South Pacific Students Association has raised concerns regarding a fake fb page, University of the South Pacific Alumni Club.
USP SA says the fake page did not even exist until a few hours and is a cheap trick.
This page was created yesterday and has a post about how Fijian Immigration treated the Vice Chancellor of USP, Professor Pal Ahluwalia.
People have raised concerns how a fake fb page was able to obtain photos that obviously looks like photos taken by the Immigration officials.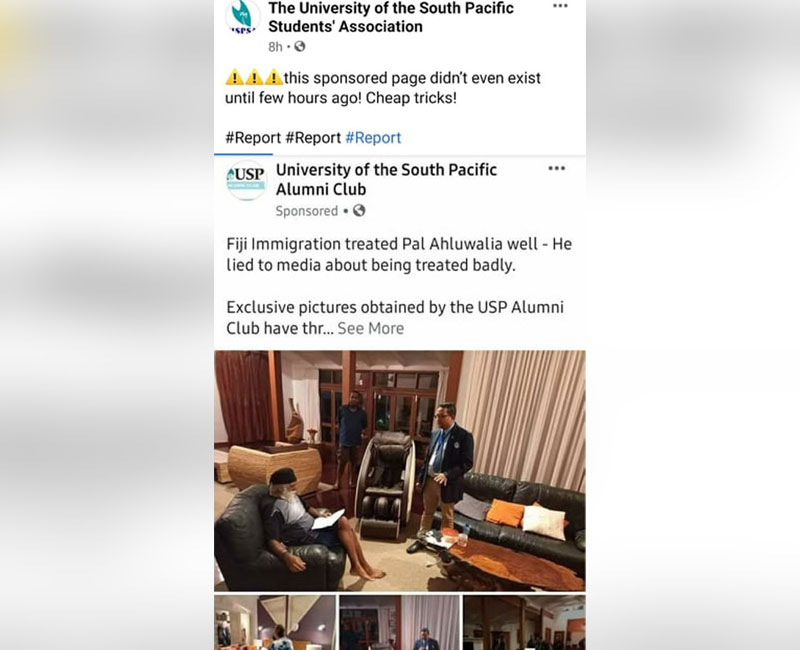 People have also raised concerns that what's even more disturbing is that they were able to obtain a photo of Pal Ahluwalia's wife, Sandy Price's bedroom which is a gross breach of privacy.
Meanwhile the Fiji Law Society has also stated today that it is not associated in any way with a facebook page or any other media social page calling itself "Fijian Lawyers Society".
The Law Society says they cannot confirm whether such an organization in fact exists.
Fiji Law Society says they are also not responsible for any publications or posts made on the "Fijian Lawyers Society" fb page and on any other social media page calling itself "Fijian Lawyers Society".
Efforts are underway to find out who are behind these fake pages.