The CSO Alliance for COVID-19 Humanitarian Response says the reduction of prices on alcohol, the continuation of FNPF unemployment benefit as announced in the National Budget, is a concern for the Alliance because their research shows that women and children will be affected and are the most vulnerable.
The members of the Civil Society Organisations Alliance is made up of 8 organisations working across different sectors in Fiji including Foundation for Rural Integrated Enterprises and Development (FRIEND), Fiji Women's Crisis Centre, Diverse Voices and Action (DIVA) for Equality, Citizens' Constitutional Forum, Social Empowerment and Education Programme (SEEP), femLINKpacific, Rainbow Pride Foundation and the Fiji Women's Rights Movement.
They say women make up only 48% of the FNPF voluntary membership, while compulsory membership stands at 59% male and 41% female.
44% of accounts have a balance of less than $10,000 for within the age group of 50 to 54 years old.
The FNPF pension includes 74% male and 26% female recipients.
The CSO Alliance says in 2016, the government introduced unemployment benefits for Fijians affected by TC Winston.
They say reports on the spike of alcohol purchase and consumption was a growing concern post-TC Winston, and in fact, a nightclub in Suva opened its operational hours at 9am to accommodate Fijians wishing to use their services.
While reacting to the 2020/2021 National Budget, the Alliance says there was no consultation with CSO and NGOs.
They say the government cannot simply address the complexities COVID-19 has had on its people without consulting everyone, and particularly CSOs, NGOs and grassroots organisations who are at the humanitarian frontline of this pandemic.
They also say over-reliance on tourism is a death trap.
The CSO Alliance says the current government debt as of July 2020 stands at $6.7 billion or 65.6 per cent of GDP (from 49.3% in 2018-2019 fiscal year) due to increased borrowing in the 2019-2020 COVID-19 Response Budget to accommodate the higher deficit of 8.2%.
They add that the lack of economic diversity, significantly high debt and the heavy reliance on tourism is putting the country in a vulnerable position for decades to come.
The CSO Alliance reiterates the importance of providing continued access to quality and student-centred learning and support must be the mission that drives our plans, particularly during this unprecedented time.
The Alliance says Fiji is not immune to COVID-19, and like many countries around the world, experiencing the potential second and third wave of COVID-19 remains a risk for Fiji.
The civil society organizations are asking whether students in Fiji are able to have access and support for quality online and distance learning.
They say if the government, schools and academic institutions are unable to confirm this, then we must address these needs, and even more so, in the national budget.
The CSO Alliance says the success of online learning requires intrinsic motivation, independent learning experience, and family support.
They question how has the National Budget 2020-2021 supported students who lack these aspects.
They also strongly believe that if one student is not able to access technology and resources for online learning, then the government cannot state that it has given the right to education for all Fijian students.
The Alliance says technology, resources and internet access for quality student-centred education can be a challenge for students, particularly in rural communities.
They ask whether the government, schools and academic institutions have data about what kind of access Fijian students have.
The CSO Alliance says the impact of the pandemic on people's health and access to healthcare services is deteriorating.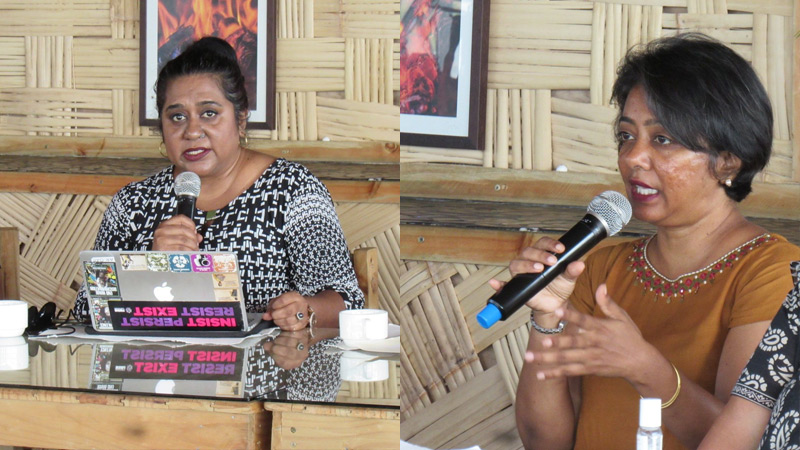 [Nalini Singh- FWRM Executive Director and Sashi Kiran- Founder and Executive Director of FRIEND]
They say they are in the frontline and there are high incidents of Non-Communicable diseases, typhoid, leptospirosis, having insufficient beds at the hospitals, lack of medicine and medical kits at the various health centres and the deteriorating state of Fiji's public hospitals and health centres is alarming.
The group says while they commend the COVID-19 work that the government has done, there are interlinked issues to COVID-19 that need to be addressed as well.
The Alliance further says that this is not the time for the government to advise Fijians and FNPF members to withdraw from their social security pensions but instead prioritise and scale-up social protection schemes.
The CSO Alliance is also raising concerns on Fijians who work in the informal sector and say the reality is that these Fijians do not have, and cannot access FNPF memberships.
They also say the national budget has failed to articulate plans to ensure that Fijians in the informal sector are not left behind.
Fiji Women's Crisis Centre Coordinator Shamima Ali says this is not a compassionate budget encompassing all people especially the neediest; and there is very little social protection and no analysis.
She says it's not only about investment attractiveness but the livelihood of people. Ali says the suffering has started and there is very little respite in this budget. She says that's why we should have had real and meaningful consultations, bipartisan and civil society prior to the announcement.
[Susan Grey- femLINKpacific Executive Director and Louchrisha Hussain- CCF CEO]
FRIEND Executive Director, Sashi Kiran says also very concerning is that farmers and fishermen who were supplying to tourism have no income and they cannot turn to any social protection.
Kiran says those taxi plate owners at the airports cannot drive in any other area without being slapped a fine and they have no income from airports.
She says there is an urgent need for care and compassion for a large proportion of people from Nadi who have been left without any income and are struggling to send their children to school, pay their bills and put food on their table.
Kiran says over the decades the tourism sector has propped the economy and when the time is tough we have not stood by the workers in the sector.
Kiran further says that Fiji has been known for its care and concern, and we can do better and look after our people.