Fiji has confirmed the 18th COVID-19 case.
Ban on social gatherings still stands.
51-year-old woman from Ba
She returned from overseas
First tested on April 18th
She shares a home with three others who all tested negative
All have been placed in quarantine
Ba will not be on lockdown
8pm-5am National curfew still stands
Three Fijians have recovered from COVID-19

Fiji has confirmed the 18th COVID-19 case after the positive test of a 51 year old woman from Ba who had earlier returned from the United States of America.
Prime Minister, Voreqe Bainimarama says the woman was already in self-quarantine for 14 days after returning from the US.
She showed symptoms after the quarantine period.
The woman shares a house with 3 others.
Bainimarama says all the 3 have tested negative however they are also quarantined.
The patient returned from the US on the 22nd of March.
Bainimarama says the results of the woman's test make it likely this patient has been carrying COVID-19 for weeks.
He says luckily, the contact tracing which began as soon as she was first tested on the 18th of April, identifies her as a low-risk transmitter.
He says they have traced and identified her other casual contacts and they have all been entered into compulsory home quarantine.
Bainimarama says mobile teams will be conducting a large-scale screening of the entire province.
He says as with Lautoka and Suva, public cooperation is vital to this effort.
He says if we don't see sufficient numbers from these screenings, Ba will risk a total lockdown.
24-hour nationwide curfew not off the table - Bainimarama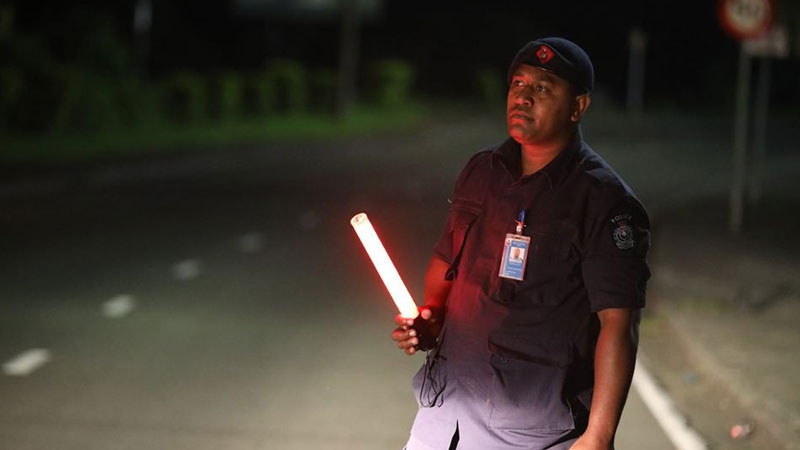 Prime Minister Voreqe Bainimarama says the possibility of a 24-hour nationwide curfew is not off the table, and the power to avoid that drastic alternative rests with every Fijian.
Bainimarama has told the people of Fiji to do the right thing today, and spare us suffering down the road. The Prime Minister says the 51 year old woman from Ba was certainly not the only unconfirmed coronavirus case in the country.
He says this virus is proving as stealthy as it is unpredictable, but it can be beaten.
Bainimarama says it can be beaten by keeping to the simple strategy of physical distancing. He says the difference of two metres of physical distance between us means the difference between victory and defeat in this campaign.
The Prime Minister says it means the difference between life and death for vulnerable Fijians. He also over the weekend, aside from dozens more arrests, they have received reports across the country of blatant violations of the physical distancing directives.
Bainimarama says too many Fijians are still behaving as if the virus isn't among us. He says thank God, there are no deaths due to the virus in Fiji. But he says if people keep crowding in public places, gathering socially, or otherwise acting like these are normal times, there's no question, we will lose lives.
Bainimarama says social gatherings are banned, and the 8pm to 5am curfew remains in effect. He says all of us should stay in our homes as much as possible.
If you see someone violating the directives, do not stay silent, pick up the phone and call 158 or call police.
He also says the government is introducing new health protection measures at hospitals nationwide.
He says only two visitors a day will be allowed to see a patient, and the visitation window will only be one hour.
Visitors will enter facilities one at a time and will need to be health-checked prior to entry.
The standing ban on visitations to isolation wards and facilities will continue.
Bainimarama says they will also be introducing compulsory testing for Fijians returning from overseas in government-funded quarantine after 14 days. If they test negative after the critical 14-day incubation period, they will be able to spend the remaining 14 days of their quarantine at home.