Tropical Cyclone Warning No. 45 issued 4:48pm Tuesday Dec 2020. Photo: met.gov.fj
Tropical Cyclone Yasa has rapidly intensified and is now a category 4 system as it heads towards us.
A Tropical Cyclone Alert is now in force for Yasawa and Mamanuca Group, Northern half of Viti Levu (from Nadi through to Korovou), Northern half of Vanua Levu (from Nabouwalu through to Votua to Labasa through to Udu Point) and Rotuma.
The cyclone alert will be in force for the rest of the group from tomorrow.
A Heavy Rain Warning is now in force for the Yasawa and Mamanuca Group, eastern half of Viti Levu, Vanua Levu, Taveuni and nearby smaller islands.
A Heavy Rain Alert is now in force for the rest of the Fiji Group.
A Flash Flood Alert remains in force for the low lying areas and areas adjacent to small streams for the interior of the main island; upper Nadarivatu, Monasavu, upper Wainimala, upper Sigatoka and upper Nadi area.
People need to take all the necessary precautionary measures as the Nadi Weather Office has analyzed that Cyclone Yasa will come right over Fiji as a very intense category 4 or 5 cyclone from this Thursday.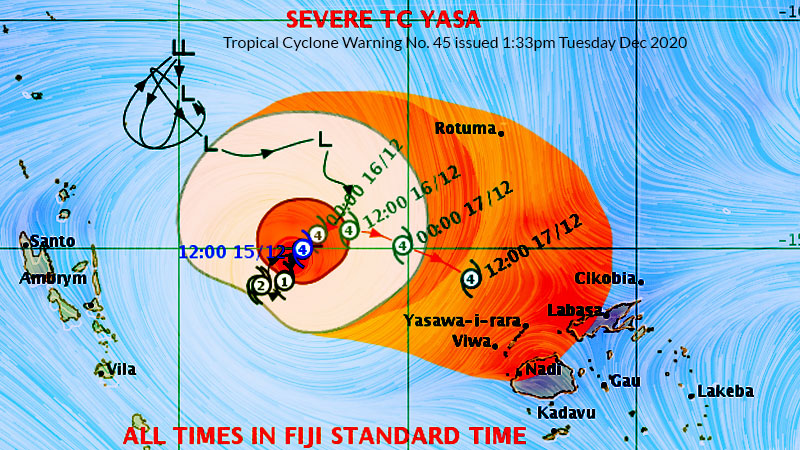 The Weather Office says Cyclone Yasa is located about 580 kilometres West North West of Nadi. Yasa is currently moving North East towards us at 8 kilometres per hour.
Forecasters say the effects will start from later tomorrow. Continuous heavy rain is expected to result in flooding in parts of Fiji.
Strong to gale force winds will also start over Yasawa and Mamanuca from tomorrow night.
Cyclone Yasa is expected to remain slow moving for the next 12 hours and remain over open waters.
From midday tomorrow, Yasa is expected to pick up speed as it tracks towards us.
Acting Director of the Nadi Weather Office, Terry Atalifo says Cyclone Yasa will maintain it's intensity and is expected to become a category 5 with hurricane winds by the time the centre of the system lies over Yasawa and Mamanuca.
People living in Viti Levu, Vanua Levu and other islands in the Fiji group can expect damaging to destructive winds from Thursday.
Atalifo says Cyclone Yasa is a large system which has a distance of 400 kilometres from end to end. Please note that damaging to destructive winds, storm surges and heavy rain will affect areas hours before and after the centre of the cyclone passes.
Yasa's centre is expected to go between Viti Levu and Vanua Levu from Thursday to Friday, which means people can expect damaging to destructive winds, gusting to 230 kilometres per hour.
Atalifo says people in heavily populated areas like Suva to the Nausori corridor can expect damaging winds and heavy rain on Thursday and destructive to very destructive winds on Friday.
Cyclone Yasa may cause widespread power failure, blow away roofs and cause considerable damage to structures especially weak-structured houses and even cause damage to well built houses.
Damaging winds can also uproot big trees and cause total damage to shallow rooted plants and crops.
Due to anticipated widespread heavy rain, there is risk of river flooding and flash flooding of low lying and flood prone areas.
From tomorrow we can expect high waves more than 6 metres over southwest Viti Levu waters, Yasawa and Mamanuca waters and Kadavu Passage. Areas that can get affected by coastal flooding are Northern Vanua Levu (from Bua to Labasa onto Udu Point), Northern Viti Levu (from Sigatoka, Nadi, Lautoka to Ba, Rakiraki onto Tailevu) Mamanuca and Yasawa.
Avoid going out to sea as there are already high waves out in the open waters.
Meanwhile, Tropical Cyclone Zazu is currently over Tonga and is expected to drift southeastwards away from Tonga and poses no direct threat to the Fiji Group.
Please be prepared for the impending cyclone. Secure your homes, ensure that you or your neighbours do not have loose material that can fly around and cause damage during the devastating winds.
Have your supplies ready, have some standby food and water, ensure you have a transistor radio and batteries to follow the weather reports on Legend FM and ensure you have emergency lights and torches.
Stay with us for developments.
---
Do not be caught off guard by TC Yasa - PMBy Iva Danford
Tuesday 15/12/2020
PM Voreqe Bainimarama. [image: PM Bainimarama/Facebook]
Prime Minister Voreqe Bainimarama is urging communities to use this time to trim tree branches, clean drains, board up homes, prepare emergency kits, and take other steps to keep homes and communities safe.
Bainimarama says we should all prepare now for heavy rain, damaging winds, coastal inundation and flooding across the country.
He says we should not be caught off guard by this storm.
Bainimarama has also urged fishermen not go out fishing as this is not the time to test their skills at sea.
He says fishermen should listen to warnings and wait until they are given clearance to do so as no fish is worth the risk.
The Prime Minister is calling on people to know the location of their nearest evacuation centre.
He says people can use "Find my EC" by texting "EC" to 132877 using viber, messenger or sms or call 3319250.
---
---
All schools closed today except for Year 12 and 13 students who are sitting their examsBy Iva Danford
Wednesday 16/12/2020
Minister for Education Rosy Akbar
The Ministry of Education has advised that all schools will be closed from today as a precautionary measure against Tropical Cyclone Yasa, except for Year 12 and 13 students who are sitting their exams.
Minister Rosy Akbar says heads of schools are advised to only allow students sitting external exams to attend school, as they have been working hard in studying and preparing for exams, and they do not want to disrupt their preparations.
Akbar says Year 1 to 11 students are to remain at home and parents are to ensure that these students do not travel to school tomorrow.
She says many of the schools will be used as evacuation centres during the cyclone.
The Minister has urged parents to be vigilant and ensure their children are protected from the intense weather conditions created by the cyclone and to ensure that they are not out during heavy winds and flooding.
Akbar says the Ministry will continue to monitor the situation and give an update on tomorrow's papers.
---
---
Expect disruptions to bus servicesBy Vijay Narayan
Tuesday 15/12/2020
File Photo
The Fiji Bus Operators Association is advising people that with the impending cyclone, the travelling public should expect disruptions to bus services across the country.

Association General Secretary Rohit Latchan says the safety of passengers and drivers is paramount and needless risks should not be taken that will endanger lives.
Latchan urges operators to assess the weather situation at regular intervals and make their decisions based on weather warnings, the advice of authorities and common sense.
The Association says they will work closely with the Land Transport Authority and the National Disaster Management Office during this period.
---