The 31 graduates of the Leadership Fiji Program.
31 people have graduated from the Leadership Fiji 2020 program this year despite facing challenges brought in by COVID-19.
Programme chairman, William Parkinson says this year has been challenging for them but it has also been one of the most productive years as well.
Parkinson says they also had to adapt because of the lockdown and conduct virtual sessions and also introduced a new advocacy program where participants had to promote a message within communities.
He says they have continued to develop young leaders where 250 prefects from three high schools and 60 prefects from 2 primary schools.
Parkinson says they chose themes such as promoting micro small medium enterprises, International Day of Peace, environment, mental health and the eradication of poverty.
The Chairman has also highlighted that $160,000 has been put into the community funds and where most of the money will be donated to small community-based leadership programs ranging from leadership training, arts, animal welfare and health and nutrition.
Chief Guest at the function, U.S Ambassador to Fiji, Joseph Cella says the virtue of humility integral to good leadership.
He says leaders must also be responsible for the action and be truthful and transparent.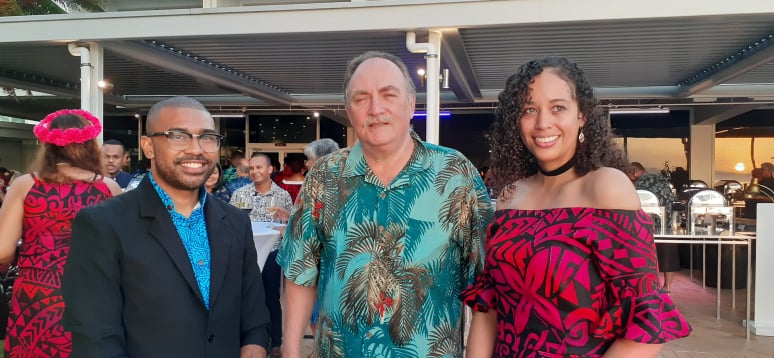 Programme chairman, William Parkinson with Leadership Fiji graduate.

Cella says reciprocal trust and transparent is vital between a leader and a team and people will give their all for leaders who are truthful and keeps their promises.
Graduating member, Mereoni Vasu says she was Plantation Island Resort as their Finance Manager before the COVID-19 pandemic but she had to start her own business tie-died clothing business.
Vasu says she got nominated by her superiors at the Resort and had then applied because she has always been passionate about community service.
She says as part of the projects with her group, she planted 300 mangroves seedlings, coral farming and a plastic bottle farm, book drives for rural schools and linen drives for the Saint Giles Hospital.
Vasu says one of the activities with kids at the resort included tie and dye activities which inspired her to start her own business of selling tie-dyed clothing under her brand called Onyx Collection.
She says her ultimate goal is to start her own accounting firm in the future.
ANZ Bank representative Ravneel Prasad says the program has really developed him as a person as Leadership has shown the different communities of people who need assistance.
He says his group collected funds and got sponsors and they provided groceries to families in Jittu Estate, Wailea Settlement, Nanuku Settlement and Navua Settlement who have been affected by COVID-19.
Meanwhile, Leadership Fiji will be celebrating their 20th Anniversary next year.
470 Alumni have graduated from the program till this year.
They aim to build a Leadership Centre in the future and are also thinking about succession planning to look at get a new chairman for the organisation and are also considering taking part in leadership exchanges programs.
US Ambassador to Fiji Joseph Cella congratulates Leadership Fiji 2020 graduates.