Building on 143,399 arrivals so far this year, we believe Fiji can register its best peak season performance in terms of visitor arrivals and tourism export receipts on the back of a record number of Australians holidaying in Fiji this year.
That is the analysis of International Economist, Kishti Sen and Senior International Economist, Tom Kenny in the latest ANZ Pacific Insight.
The report says Fiji is ideally placed to maximise its international tourism returns heading into its late June/July/August peak season.
Australia is Fiji's main source of tourism, and the proportion of holiday trips from there to Fiji rose from 4.5 percent pre-COVID to 25.5 percent in the first four months of 2022.
The good news does not end there.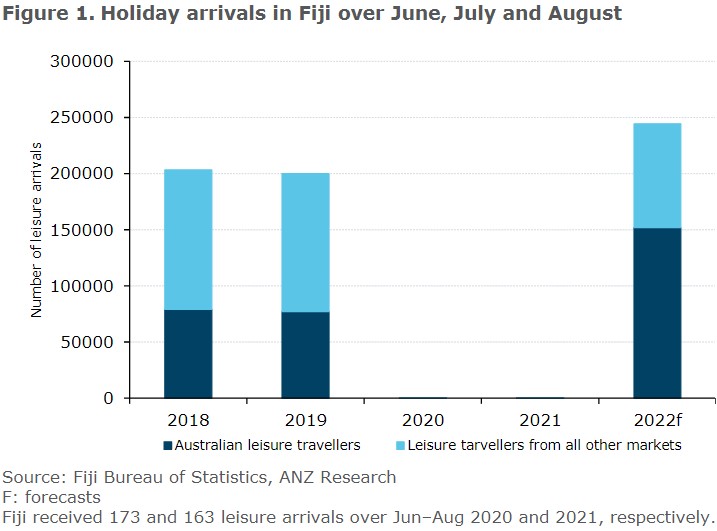 The Pacific Insight says Australians made 96,160 overseas holiday trips in April, which is only around 17.8 percent of the pre-pandemic average of 539,550 for the month. It says as the number of trips returns to the long-run monthly average of 533,248, possibly more given the huge pent-up demand for overseas holidays – the number of Australian's holidaying in Fiji will rise.
The report says this is likely to more than offset the loss of tourists from markets that are still closed or facing strict travel conditions.
The ANZ report says Fiji will lose some Australian market share as overseas markets open up, but they don't expect Fiji's share to fall back to pre-COVID levels of 4.5 percent in the upcoming peak season.
The Pacific Insight says Fiji's advantages over its competitors include very high vaccine coverage and an on-going COVID surveillance program, over six months experience marketing and servicing inbound demand since reopening its border, competitive pricing through discounting and tax cuts, enhanced flight connectivity, recently refurbished luxury international hotels and resorts, a reputation for natural beauty, warm hospitality, rich cultural experiences and friendly locals.'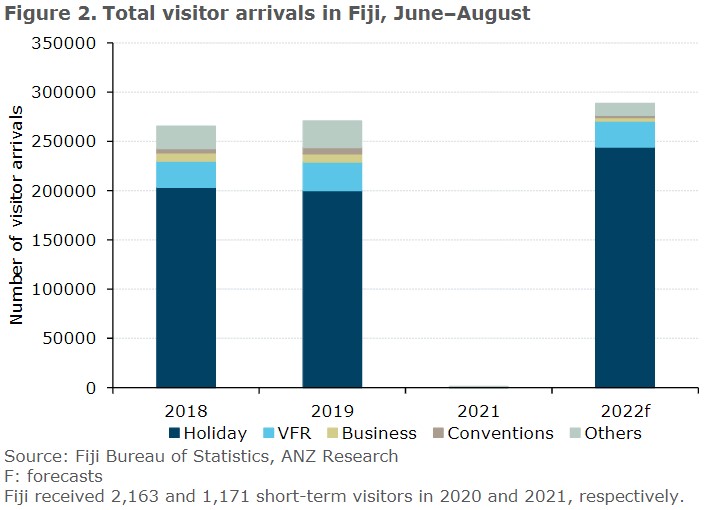 It says holiday makers from other key markets, in particular New Zealand, the United States, Canada and the Pacific will add to the numbers, as all have eased international travel conditions recently.
The international economists say other short-term international arrivals, such as business, conference, event and sporting travellers, will pick up too on the back of a more open global economy, and they expect Visiting Friends and Relatives travellers to build momentum through the peak season.
They forecast a total of 288,684 visitor arrivals in the June to August season, which is 6.6 percent higher than the record 270,862 visitors in 2019 for Fiji.
For calendar year 2022, they see 671,955 visitors which is 75.1 percent of 2019's inbound demand.
It has also been confirmed that industry liaison suggests tourists are staying longer per trip, so tourism yields (spending per trip) are also likely to be up relative to 2019 although discounting will provide a partial offset. The tourism services export upswing, coupled with higher employment driving consumption expenditure and green shoots in private investment, supports their projection of Fiji returning to its pre-pandemic level of GDP this year.
The Visiting Friends and Relatives arrivals are expected to return to near 2019 demand in the near term but to gather steam towards the end of year, when longer school holidays begin, and families travel to Fiji for reunions leading up to the festive season.
Fiji's tourism demand for the first four months of this year remains well below pre-pandemic levels (143,399 arrivals in 2022 versus 321,843 over the same period in 2019). This means there is significant pent-up demand.
Despite high CPI inflation and rising global rates to control consumer price inflation, households in Fiji's major tourism markets have built up a considerable savings buffers through the pandemic. For example, in Australia households have saved an additional AUD97 billion through 2020 and 2021 pushing savings to AUD186 billion for the year ending March 2022.
Its 'cash' savings ratio (the ratio of saving to disposable income, excluding depreciation of major assets –'consumption of fixed capital') lifted to 25.6 percent in March 2021 from 15.6 percent in December 2019.
Strengthening tourism demand will see tourism operators gear up to meet higher demand.
However, the industry is facing competition for labour from the emerging Business Process and Outsourcing industry and employment opportunities overseas either through Australia's Pacific Labour Mobility Scheme or overseas employers directly recruiting staff from Fiji.
The ANZ report says some Fiji hospitality industry employees left the industry when tourism shut down. This could result in rapid tightening of labour capacity, putting upward pressure on wages along the supply chain and possibly to inflation down the track.