Emma Stone in Cruella. Image Credit: Disney
The Oscar-winning costume designer behind the clothes seen on screen in Mad Max: Fury Road—for which she won her second Academy Award, and endured withering stares from directors including Alejandro Iñárritu as she ascended the podium in her Mad Max-y weathered leather jacket—and Sense and Sensibility, among many, many other movies in her 43-year career, believes that Cruella might be the largest film she's ever worked on.
"It ranks," she muses. No wonder: with some 277 costumes for principal cast members, and 47 changes for star Emma Stone and a further 33 for her antagonist Emma Thompson, and all of those costumes made during just a 10 week preparation window, Beavan had her work cut out for her.
"Curiously, Mad Max was not that many people, it's just that we made thousands of repeats," Beavan reflects. "I would say Anna and the King or Alexander was bigger, in terms of amounts, but this was more complex."
Beavan is referring not only to the sheer number of costumes required, but also to the work that went into those costumes: which veered from Dior-esque tailoring on Thompson's character The Baroness, a doyenne of fashion overseeing a vast sartorial empire, to the punk rock energy of Stone's young Cruella, then known as Estella, a scrappy design wannabe hoping to break into London's style scene.
Cruella is a Disney villain origin story, a la the ultra-successful Maleficent, and the story revolves around Estella's anarchist attempts to dethrone the Baroness.
Naturally, she does this by turning up to several big parties in the kind of head-turning gown that doesn't merely make a scene, it makes an entire Broadway musical.
One of those frocks, an ombre organza confection known as the Car Dress, was hand-stitched by Beavan's team from a base of some 393 metres of fabric and featuring an astonishing 5,060 fabric petals.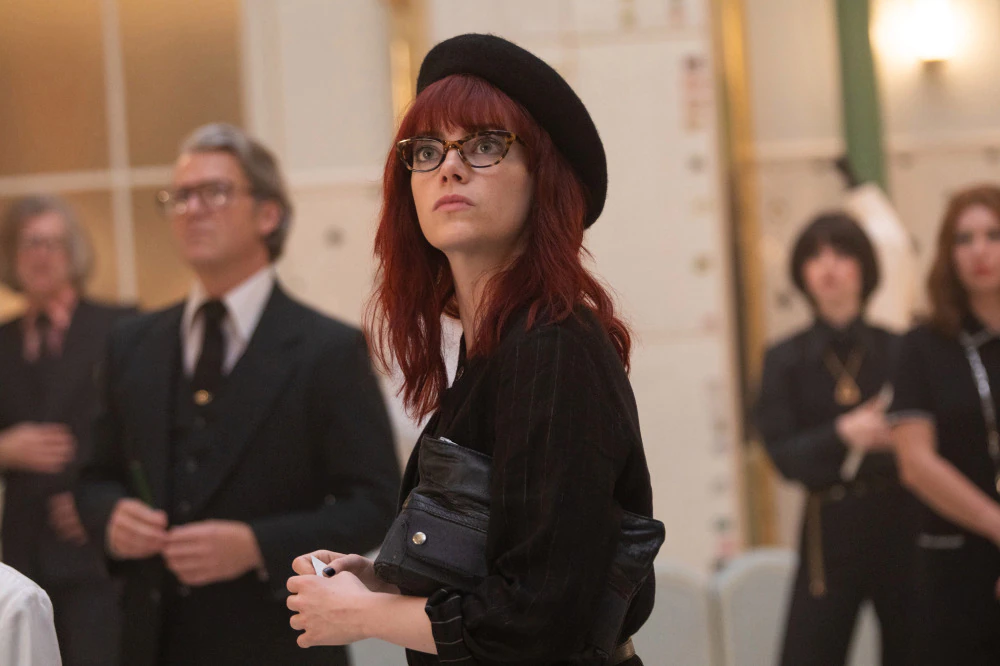 "It is full on, isn't it?" Beavan says, grinning. "Absolutely full on looks, and that's how it was written! I'm just literally illustrating what that script told me to do."
Beavan is "very fond" of those "photobomb moments", as she calls them—"obviously," she adds," because those are huge costumes."
Including one red satin dress with a matching cascading cape, that Estella lights on fire in the middle of a party to spite the Baroness.
Beavan is also a particular fan of the very final costume of the film, which she cannot discuss for a variety of extremely spoiler-y reasons, but that she reveals is "rather wonderful".
Stone is "the most lovely person," enthuses Beavan. "As soon as she started to try clothes on, she would own them, and sell them, and find ways of using them," Beavan adds.
Fittings with the Oscar-winning actress were a joy, as the pair tried to figure out Estella's unique and stubborn stylistic spirit.
"She will wear anything and give it her all," says Beavan.
"She's not vain in any way. She'll have a go and enjoy."