The 18-year-old's gold medal performance in the big air competition thrust her into the global spotlight Tuesday, sparking such a furor in China that social media platform Weibo crashed under the weight of interest.
But Gu has spent years establishing herself as both a top athlete and a hugely bankable model who appeals to brands in both Asia and the West.
In 2021, as she won gold medals at the skiing World Championships and Winter X Games, Gu was also forging lucrative partnerships with fashion houses and luxury labels.
Signing for IMG Models, the agency representing Bella Hadid, Kate Moss and Hailey Bieber, she has penned deals with Louis Vuitton, Victoria's Secret and Tiffany & Co., as well as the luxury Swiss watchmaker IWC and cosmetics brand Estée Lauder, among others.
[Eileen Gu seen on a JD.com advertisement at a bus stop in Beijing, China. Credit: Tingshu Wang/Reuters]
In fact, the California-born athlete is among the most heavily sponsored athletes at these Olympics. She arrived in Beijing with more than 20 commercial partnerships, ranging from Beats by Dre headphones to Cadillac.
But it is Gu's mass appeal in China, where she is known by her Chinese name Gu Ailing and has been nicknamed the "Snow Princess," that makes her especially valuable to brands.
Having switched her sporting allegiance to her mother's home country in 2019, Gu's fluency in Mandarin has helped secure her place on Chinese TV ads, billboards and even milk cartons (as the face of Inner Mongolia-based Mengniu Dairy).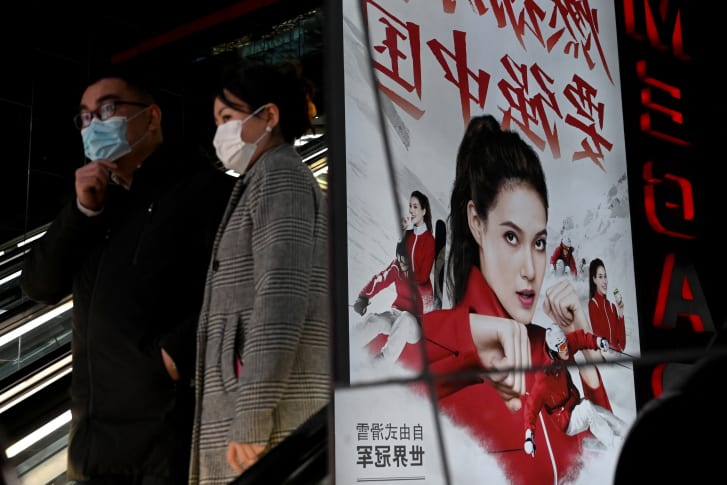 [An advertising billboard shows Eileen Gu promoting the Chinese dairy company Mengniu Dairy. Credit: Noel Celis/AFP/Getty Images]
E-commerce giant JD.com, cafe chain Luckin Coffee and telecoms firm China Mobile are among the growing list of mainland brands that she's modeled for in recent months.
China is on track to become the world's largest luxury market by 2025, according to consulting firm Bain.
The Asian edition of marketing and advertising industry magazine Campaign estimated that new endorsements there could be earning the athlete around 15 million yuan ($2.5 million) apiece -- and that was before her gold-medal success.
According to Bohan Qiu, whose Shanghai-based creative agency Boh Project works with major fashion brands, Gu's surging popularity in the country comes at a time when nationalist pride in China has seen "the relevance of Western celebrities" decrease.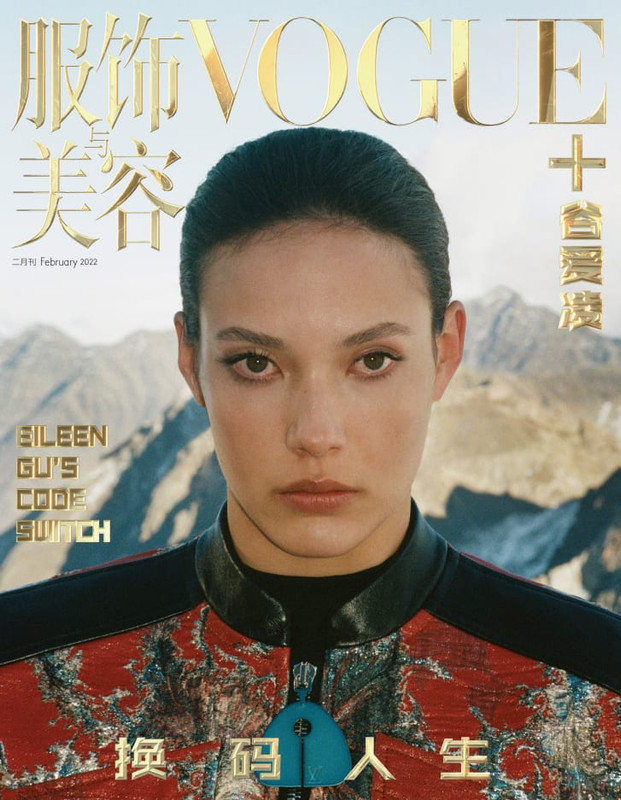 [The skiing star guest-edited an issue of Vogue China's Gen-Z-focused bimonthly issue, Vogue+.]
"For this generation, a lot of the celebrities here are quite domestic-oriented -- so (Gu) being half-American half-Chinese, and speaking both languages fluently, has a very global appeal," he said over the phone, adding that the country's Gen Z demographic contains "third culture kids" who simultaneously understand Chinese and Western contexts.
"She is definitely a once-in-a-decade type of talent."
Gu has coupled big-money deals with reputable magazine features and appearances at A-list fashion shows.
Spotted at events like Paris Fashion Week as far back as 2019, she has since been seen on Louis Vuitton's front row and the notoriously exclusive Met Gala, where she arrived on the red carpet wearing a Carolina Herrera bubble dress.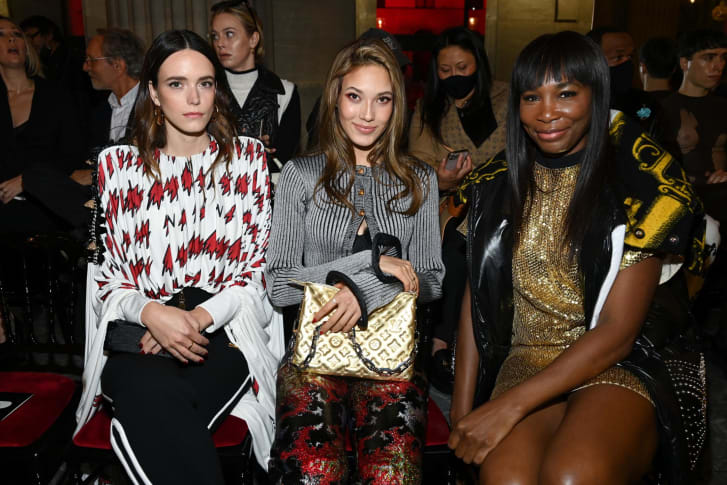 [Eileen Gu pictured with Stacy Martin (left) and Venus Williams (right) at the Louis Vuitton Womenswear Spring/Summer 2022 show at Paris Fashion Week last October. Credit: Pascal Le Segretain/Getty Images]
"The fashion world has helped balance my training," she told Vogue Hong Kong, appearing on the cover of the magazine's July issue.
"Just like skiing, modeling requires incredible expression and personality.
It requires creativity, confidence, and the ability to learn and adapt... The transition between modeling and skiing became a break and a practice for each other that helped me eventually feel more motivated in each area."
Gu has also appeared on the cover of Chinese editions of GQ and Elle. And as guest editor of Vogue China's Gen-Z-focused bimonthly issue, Vogue+, the athlete recently explored the complexities of her identity under the theme "code switch."
"I wanted to explore and showcase the inherently malleable nature of adolescent identities, Gu wrote on Instagram, "a quality I've found myself tapping into time and time again as I display different facets of myself (athlete, model, student, Chinese, American, teenager, writer, public persona, etc) in different environments.
Everyone code switches, and I think it's time we start celebrating that multifaceted nature."
[A promotional image from Gu's recent campaign with Louis Vuitton. Credit: Louis Vuitton]
[Source: CNN]