Argentina's captain Pablo Matera is fast becoming one of the most popular players in world rugby, with his touching gesture after his side's 15-15 draw against the Wallabies in Newcastle.
A social media video has gone viral, showing Matera giving his game-worn jersey to an emotional fan, who burst into tears in the presence of his idol.
As Matera approached the fan and hugged him, the boy started crying.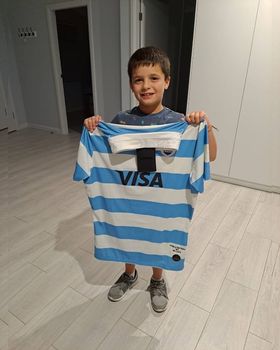 Then, in a moment of brilliance, Matera took off his jersey and gave it to his admirer to a round of applause from the Argentinian fans.
A Twitter video was viewed more than 100,000 times in just three hours.
Matera was praised for his influential performance last weekend during Argentina's historic 25-15 win over the All Blacks.
He also received praise for his leadership, when a scuffle broke out in the opening minutes of last week's test.
Referee Angus Gardner pulled him aside and asked him to show some leadership. Matera's response left the rugby world speechless.
Matera said "They're kicking my guys and they show no respect."
He also pointed to the badge on his chest and said: "I play for my country."
Argentina meet the All Blacks at 8.45pm next Saturday.
[Source: Newshub.co.nz]