The Public Rental Board has completed the Simla Low-Cost Housing Estate project which consists of 36 new rental flats.
PRB says this is to continue providing quality and affordable housing for those in the low to middle-income brackets. Officiating at the opening ceremony of the flats at Kuata Street in Lautoka today, the Deputy Chairman of PRB and Housing Authority Saud Minam said the successful completion of this project showcases PRB's commitment to its mandate.
Minam says they acknowledge that decent and affordable housing is important for families.
He says a house is not just a building – it is a home that supports the personal and professional development of families.
Minam says home is where we learn to respect, love, hope and dream.
He says therefore, access to affordable housing can never be considered an option – it is rather a necessity.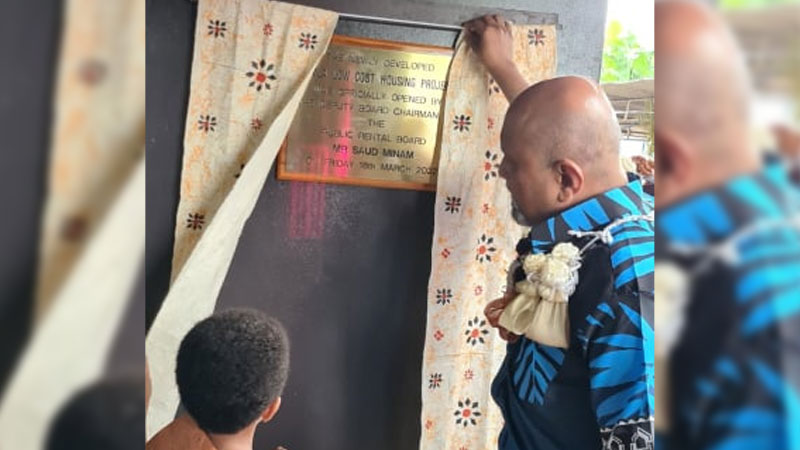 Minam acknowledged the Government's commitment to bridging the gaps that hinder Fijians from having a place that they can call 'home'.
He says this project has come to fruition thanks to a grant of $3.6 million from the Fijian Government.
The Simla Low-Cost Housing Estate Project commenced in October 2018 and was completed in November last year.
There are two 3-storey buildings consisting of 18 one-bedroom units per building. The 12 units on the Ground Floor are disabled-friendly.
Although these were rental flats and temporary housing, the Deputy Chair encouraged every tenant of PRB Rental Flats to take full ownership of the flats and treat them as their own homes.
Minam says today PRB has a total of 1,672 flats which houses close to 10,000 individuals.
He says this is set to grow as the Board plans to roll out the construction of 76 flats at Matavolivoli, 150 in Raiwaqa and 50 flats in Narere, Nasinu.