Anurashika Bari, Priya Singh and Sailosi Sawana. [image: Min of Local Govt.]
New Chief Executive Officers for the Nasinu, Nausori, Ba, Rakiraki and Tavua Town Councils have been appointed.
Anurashika Bari has been appointed to the position of Chief Executive Officer for the Nasinu Town Council and Nausori Town Council.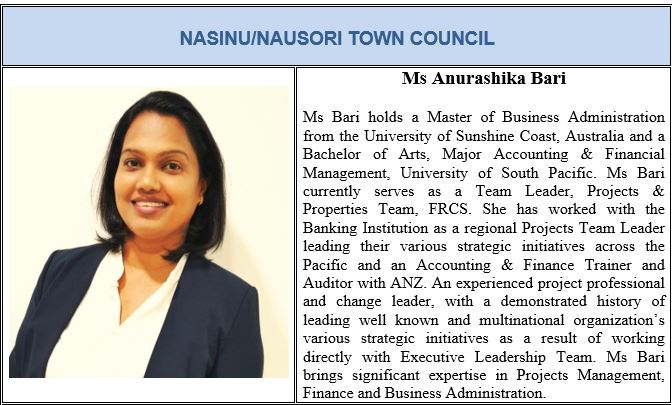 Permanent Secretary for the Ministry of Local Government Dimity Fifer says Bari who holds a Master of Business Administration from the University of Sunshine Coast brings in significant expertise in Project Management, Finance, and Business Administration.
Fifer says Bari recognises the need for social responsibility and looks forward to serving her local community.
She says with her expertise, Bari is expected to overcome the major challenges faced by these two Councils.
Priya Singh has been appointed as the new CEO of the Ba Town Council.
Fifer says Singh has a strong accounting background and knowledge of a wide range of financial practices that will improve the current financial system of the Council.
Singh is currently completing her Executive Masters, Business Administration at the Fiji National University.
Fifer says Singh is not new to the developments and activities around Ba, as she was born and bred in Ba.
She says with her wide range of skills and knowledge, the Ba Town Council strongly believes Singh will be able to meet her deliverables as expected by the council and the community.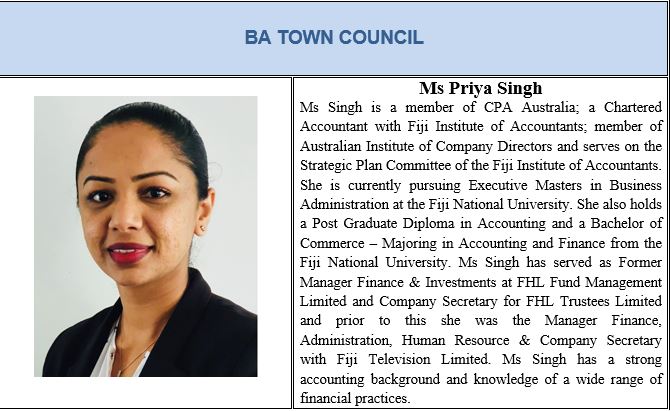 Sailosi Sawana has been appointed as the new CEO responsible to manage the Rakiraki Town Council and Tavua Town Council.
Sawana holds a Masters in Business Administration, from USP.
He is a qualified Public Accountant with over 25 years of progressive accounting, corporate, and audit experience augmented by a strong post-secondary background in Accounting, Auditing, and Business Administration.
Fifer says Sawana's leadership will deliver high-quality results when it comes to the performance and growth of Rakiraki and Tavua.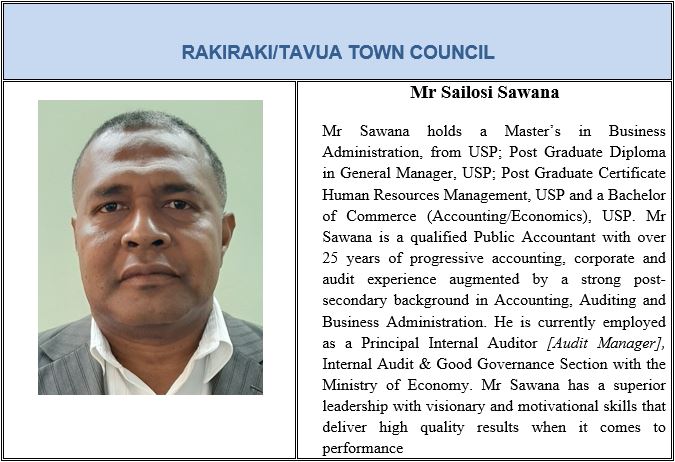 She says after numerous rounds of recruitment and a due diligence process, the Councils has identified personnel with the right skill sets to ensure that modern professional management is embedded in local government administration