---
Fiji Agromarketing to pay farmers through Vodafone M-PAiSA
Fiji Agromarketing to pay farmers through Vodafone M-PAiSA
Shalendra Prasad of Vodafone Fiji, Permanent Secretary for Agriculture Ritesh Dass and Chief Executive Officer of Fiji Agromarketing Alvin Sharma. [image: Fiji Agro Marketing]
Commercial large scale farming has today made a breakthrough as Fiji Agromarketing and Vodafone Fiji signed an agreement for M-PAiSA mobile money to be the official payment channel for farmers.
Chief Executive Officer of Fiji Agromarketing Alvin Sharma says the cashless payment method will enable them to pay their registered farmers directly on their mobile phone.
He says it is a safe, secure and highly efficient payment method that will take away all the risk of carrying large amounts of cash both from Fiji Agromarketing and the farmers.
Permanent Secretary for Agriculture Ritesh Dass says Vodafone's M-PAiSA cashless payment through mobile phone is fast becoming the new normal in the Fijian economy.
He says the global COVID 19 pandemic has also highlighted the importance of contactless cashless payments as a safer way to pay.
Dass says the Ministry has been looking for innovative ways to streamline the payments process which involved large sums of money being transacted on site of delivery.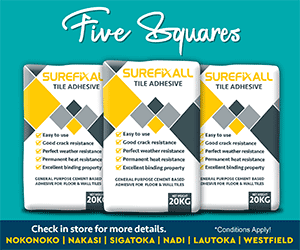 Stay tuned for the latest news on our radio stations