---
Emergency drainage works done in Dreketi
Emergency drainage works done in Dreketi
[Photo: Fijian Government]
The Ministry of Waterways is conducting emergency drainage works and repair of floodgate structures which has brought relief to close to 300 farmers in Dreketi.
Minister for Agriculture, Waterways and Environment, Dr Mahendra Reddy says these were the actions his aligned Ministries are undertaking to restore agricultural activity in the Northern Division.
He says they will ensure that they will do all the emergency drainage work to allow the water to move out quickly so that farmers can quickly restart their agricultural activity and get production going.
The President of the Fiji Rice Farmers Association Yadh Ram acknowledged the timely assistance in an effort to bring about some sense of normalcy to the farming communities in the North.
Ram says this will allow farmers to take immediate action and start their farming again.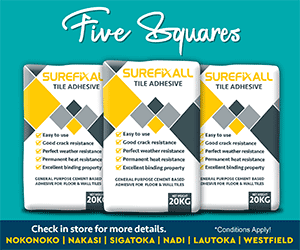 Stay tuned for the latest news on our radio stations