A group of Afghan models participated in Afghanistan's first fashion show in Kabul to depict the plight of war victims in the country. (Photo by Haqiqi Fashion)
12 Afghan models walked the runway on Saturday as part of the country's first fashion show to highlight the impact of the decades-long conflict.
Dressed in blood-stained shrouds to resemble war victims, two women and 10 men took part in the first round of "The Shroud Fashion Show."
Event organizer Ajmal Haqiqi said there were plans to host similar events in the future.
"Through this event, we wanted to show the bitter and harsh reality of the ongoing situation in our country, to show the impact of suicide bombers, blasts and attacks," Haqiqi told Arab News on Sunday.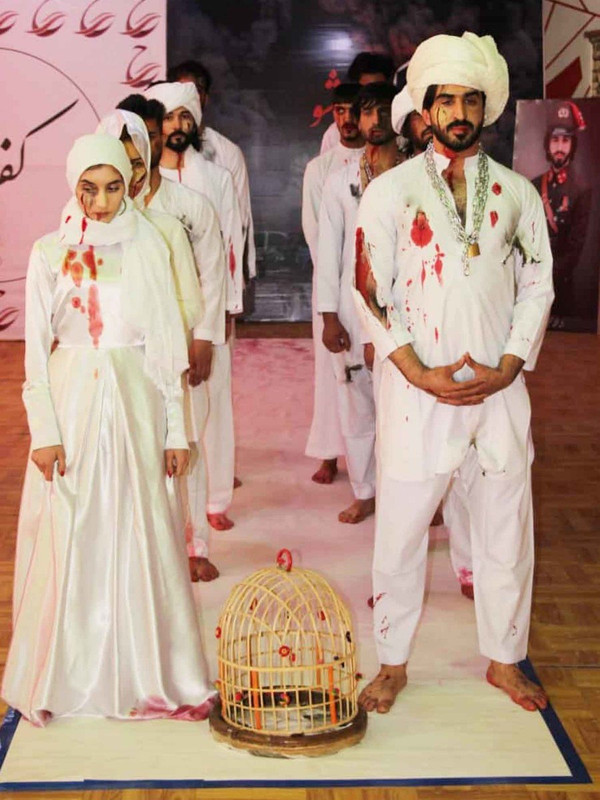 "We will hold more of such programs among the public, on the streets, and in this way draw the attention of our leaders and the world that Afghans more than any other nation badly need and deserve peace."
He said the main idea behind the event was to draw attention to the "war's calamities."
It was a campaign to emphasise peace, not on modelling or peace for modelling," Haqiqi added.
Some Afghans went on social media to show their support for the event.
[Source: Arab News]